Tonganoxie man remembered as good friend, master of anything with wheels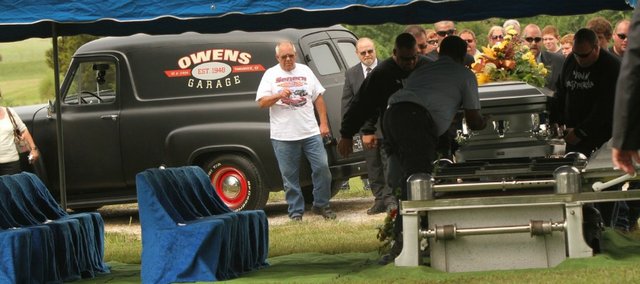 It seems that if something had wheels, Nick Owens could drive it — sometimes without some of those wheels touching the ground.
The Tonganoxie man died Saturday while swimming at Lone Star Lake in southern Douglas County. Though family still awaits word on the cause of Owens' death, they and other loved ones were remembering him Wednesday.
Many commented on his abilities, whether they were performed on a dirt bike, car or truck.
"He could do a wheelie from here to Kansas City," said Oliver Harris, one of Owens' friends and pallbearer at his service Wednesday, "and not put front tires on the ground."
Owens raced dirt bikes for years and also worked off and on for Jimmy Creten, who with his wife, Dawn Creten, race monster trucks Bounty Hunter and Scarlet Bandit respectively.
Creten asked Owens to race one of his trucks, Iron Outlaw, on the monster truck circuit. Owens had been racing for about a year and a half. He recently was named Monster Jam rookie of the year.
"He was a natural," Creten said. "And an old motocross guy. It's not too different, flying through the air on a bike or an ATV or monster truck. If you're flying through the air, you're flying through the air."
Creten said Owens "could do anything" and that Creten never had to tell Owens something twice. He was a quick learner.
A Hot Wheels replica of the Iron Outlaw was placed in Owens' casket, as was one his monster truck crew's shirts.
In the funeral procession, the Iron Outlaw truck made its way on a trailer from Quisenberry Funeral Home in downtown Tonganoxie to Maple Grove Cemetery just south of Tonganoxie, as did a host of motorcycles.
Owens' casket made the journey in the back of his uncle's 1955 Ford panel truck adorned with the words "Owens Garage."
Friends also noted Owens was successful at most things, whether it was working on vehicles, putting up fences or doing collision repair.
Some of that repair came in Creten's shop working on monster truck bodies.
Calvin Quisenberry, owner of the funeral home, estimated that 200 people attended the service and only standing room remained.
Brian Quisenberry, Calvin's son who also works in the family business, was one of Owens' classmates at Tonganoxie High School.
He described Owens as "a character." And if he ever rode in a vehicle Owens was driving, Brian joked, "Usually I was putting my seat belt on as quick as possible."
But he also was quick to point out that Owens was talented.
"Anything you could do with your hands, Nick could do pretty much," Brian said.
While finishing up at the funeral home after Tuesday's visitation, Brian heard the "Dukes of Hazzard" theme song playing, one of many that played on a loop during the visitation.
"There couldn't be a more fitting song for the kind of guy Nick was," Brian said.
Pallbearers wore shirts that read "Living Fast Forward," a tribute to a Kenny Chesney song that was Owens' favorite. On the back of the shirt, Owens' favorite phrase: "Let's Ride."
Cody Thornton, another friend and pallbearer, said Owens was always there for a friend, whether it was to go fishing or someone to talk to, "at the drop of a hat."
A large contingent of friends and family were at the visitation Tuesday as well.
Owens' older brother, Mike Gibson, said that the turnout was a testament to Owens touching so many lives and that his family couldn't thank everyone enough for the outpouring of support.
He said he also planned to ride his motorbike Wednesday night in honor of his brother.
"Tonight I'm going to go for a ride and my little brother's gonna be right there with me," Gibson said Wednesday afternoon.