THS

trainer excited to see head-injury act passed in Kansas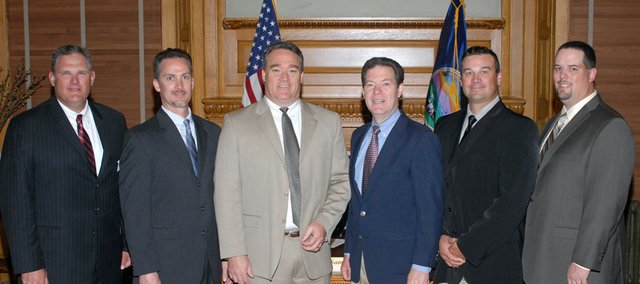 Concussion behaviors
The following list of signs, symptoms and behaviors that are consistent with a concussion comes from a KSHSAA release on the matter.
Signs observed by others
• Appears dazed or stunned
• Confused about assignment
• Forgets plays
• Unsure of game, score, or opponent
• Moves clumsily or displays lack of coordination
• Answers questions slowly
• Loses consciousness
• Shows behavior or personality changes
• Seizures or convulsions
• Can not recall events prior to hit
• Can not recall events after hit
• Slurred speech
Symptoms reported by athlete
• Headache
• "Pressure in head"
• Nausea or vomiting
• Balance problems or dizziness
• Blurred, double or fuzzy vision
• Sensitivity to light or noise
• Feeling sluggish or slowed down
• Felling foggy or groggy
• Drowsiness
• Change in sleep patterns
• Amnesia
• "Don't feel right"
• Fatigue or low energy
• Sadness
• Nervousness or anxiety
• Irritability
• More emotional
• Confusion
• Concentration or memory problems (forgetting game plays)
• Repeating same question/comment
Tonganoxie High athletic trainer Mark Padfield did plenty during his summer vacation this year, but the highlight of his break came almost immediately after the school year ended.
As public relations officer for the Kansas Athletic Trainers Society, Padfield was quite pleased when the School Sports Head Injury Prevention Act was enacted by the Kansas Legislature and eventually put into effect on July 1.
Worries about concussions and head injuries being properly treated have been on the rise recently and KATS and the Kansas State High School Activities Association wanted to have protocol in place to keep athletes in the Sunflower State as safe as possible. Now when an athlete in Kansas has a head injury, it is illegal for her or him to return to athletics participation without being cleared by a medical doctor or doctor of osteopathic medicine, which was exactly what KATS and KSHSAA wanted out of the law.
"That was the only thing we were worried about," Padfield said of KATS.
Last year was the first year KSHSAA recommended doctor's clearance. Now it is a law. Padfield said that doesn't really change anything for THS athletes, because he had been following those guidelines.
However, he said, the law will make it illegal for a smaller school that might be operating without an athletic trainer to clear an athlete with a head injury. Every student-athlete in Kansas, Padfield said, will now be protected from coming back too early after suffering a head injury.
"It takes all of the gray area out of the coach's hands," the THS trainer said. "You can't make that judgment call anymore."
KSHSAA offered the following guideline for compliance with the law:
"If a student suffers, or is suspected of having suffered a concussion or head injury during a sport competition or practice session, the student: (1) must be immediately removed from the contest or practice and (2) may not again participate in practice or competition until a health care provider has evaluated the student and provided a written clearance for the student to return to practice and competition."
The bottom line of getting the law passed, Padfield noted, was to eliminate conditions in which an injured athlete might end up suffering second impact syndrome and doing more damage. The law guarantees athletes time to heal and get rest.
Padfield was happy the law was enacted and that he was able to help KATS push it through.
"It's awesome," he said. "Anything that increases player safety is what we're all about."
Tonganoxie's athletic trainer said seeing the law pass was satisfying and important.
"From a professional standpoint, I would say that was the highlight of the summer," he said. "We worked pretty hard to get that done."
Heat illness, Padfield added, is likely the next issue KATS will address statewide.