Swing your partner: One of area's largest square dance clubs calls Shawnee home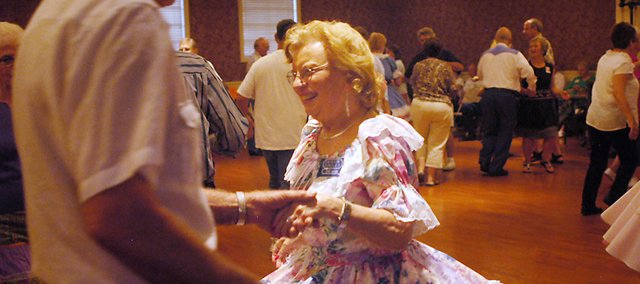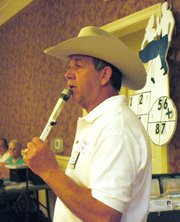 Try square dancing
try swing dancing
The Swingin' Singles square dance club will offer lessons this fall. The first class is scheduled for 7 p.m. Sept. 12 at Shawnee Town Hall, 11600 Johnson Drive. The club requests donations of $3 per week for lessons.
The club's website is swingin-singles.org. For more information contact club president Bill Hale at (913) 980-1985 or kcbilly0314@gmail.com, or club vice-president Don Adkins at (913) 962-1743 or dadkins@everestkc.net.
When the fiddle's flying, the caller's yodeling and a sea of smiling people is spinning around you like cake batter in a mixing bowl, there's little room for thoughts outside your square.
"When you get out on that dance floor, you have to let all the worries of the day go," said Lois Edmiston, a Swingin' Singles dance club member from Kearney, Mo. "So I leave my cares outside the dance hall and just have a wonderful time square dancing."
Edmiston is one of 180-some members of the Swingin' Singles square dance club, which dates to 1966 and has called Shawnee home for about six years. The club — one of the largest in Kansas and Missouri — has regular dances on the first, third and fifth Tuesdays of every month at Shawnee Town Hall.
About 125 members show up for each of the club's regular dances, caller Jay Krebs said.
Krebs said he's called all over but that Shawnee Town Hall's real wood floors, good acoustics and old-timey feel make it one of his favorite venues.

"I love this hall," Krebs said.
Krebs totes a few hundred records to the Shawnee dances. He said he's got another thousand at his house.
On a recent Tuesday night, Krebs' instructions floated over the din of laughter, "yee-haws" and toe-tapping country and western music — some old-fashioned and some recent hits.
"Boy, run around a girl. Couples ciirrrr-culate. Ferris wheel," Krebs called out as small groups — or squares — of couples pranced and pretzeled through the intricate patterns.
In spite of the club's name, you don't have to be single to participate. While plenty of singles show up, others attend with spouses or steady partners.
A leaflet put out the by the club also dispels a common misconception — ladies, you don't have to wear the ruffled, cupcake-like crinoline skirts if you don't want to. While many dancers do like them, it's more about being comfortable. While some men don decorative western shirts, cowboy boots and bolo ties, others can be seen dancing in slacks and Hawaiian shirts.
The Swingin' Singles are offering classes this fall, with the first on Sept. 12.
Lessons last about 20 weeks, but trainees are allowed to start attending the club's dances after they're about halfway through.
Members are quick to point out that square dancing is more than just that.
It's great exercise — at least one study has indicated dancers may cover 3 miles in a single evening — and, even more, it's social.
Swingin' Singles member Floyd Bartley of Overland Park said a friend kept after him and his wife for a couple years and they finally signed up for lessons.
"We have a lot of fun and make a lot of friends," Bartley said.
Edmiston said she's met hundreds of people in her four years of dancing, including many lifetime friends. Many of the club's dancers have been at it for 25 or 30 years, or more, she said.
"We say in square dancing that square dancing is friendship set to music, and it really is," Edmiston said.