After slow start, some sunflowers are blooming at Grinter farm south of Tonganoxie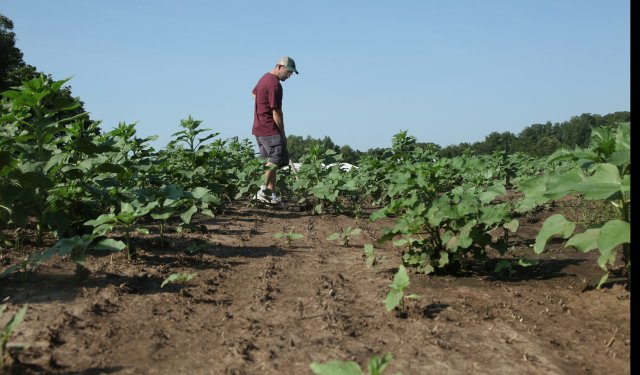 Ted Grinter's sunflower crop had a slight Goldilocks complex this summer — but he hopes his bounty of the state flower now has found that everything is just right.
When Grinter and his wife, Kris, planted 27 acres of sunflowers on the family's southwest Leavenworth County farmland, 3 1/2 inches of rain fell the next day, providing too much rain for the fledgling crop. After his second planting came a dry spell and a streak of triple-digit temperatures. Sunflowers can handle some dry weather, but it wasn't ideal for normal growth.
"Dry seed setting in dry ground, they just did not like that," Grinter said.
He replanted five of the 27 acres a third time and, slowly but surely, the entire crop continues to grow.
"I'm hoping they'll turn yellow and at least be pretty to look at," Grinter said.
This year's crop is near 24154 Stillwell Road, a rural Lawrence address.
Jim Grinter, Ted's father, started planting sunflowers nearly 40 years ago in hopes of using the sunflower oil for fuel, but there was nowhere in the area in which to process it. Now, the family harvests and sells the seeds and opens the field up to visitors.
Jane Blocher, executive director of the Douglas County chapter of the American Red Cross, said she and fellow northwest Lawrence neighbors take a pilgrimage to the sunflower field each year.
"We always look forward to this time of year," Blocher said. "And it is, I think, the most wonderful photo opportunity in northeast Kansas."
Ted said he's had inquiries from as far away as Michigan and Texas about visiting the sunflower field.
For more information about the sunflower field's progress, see Kris' blog, krisgrinter.blogspot.com.