Braves have speed, plan to use it
BSHS

plans to target fastest backs, receivers as much as possible in Aslin's first season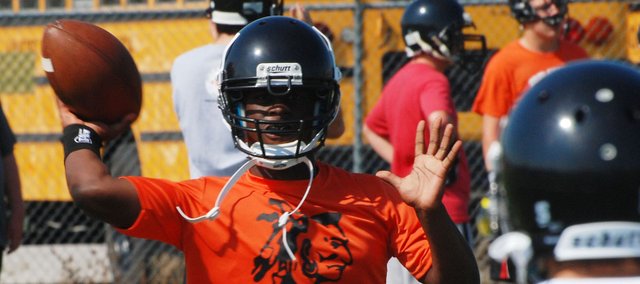 The Bonner Springs High School football team has speed to burn, and first-year head coach Lucas Aslin plans to utilize it.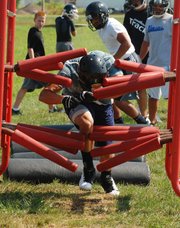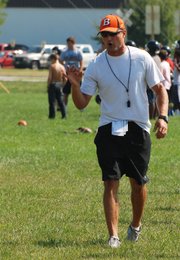 "We can run," Aslin said after the Braves' first week of practice for the 2011 season. "We have a pretty fast team. J.J. Jackson (senior tailback) ran a 4.5 (40-yard dash) for us this summer, and we have others who are also fast. (Quarterback) Jourdaine Smallwood is fast. Monte Cox is fast. We have several others with good speed."
Speed and hustle are going to be needed in great supply for the Bonner Springs squad this season as the team's overall lack of size will force Aslin to utilize swiftness and creativity on both offense and defense. Aslin and his staff began to implement their attacks last week as practices started Monday, Aug. 15.
"We're around 80 or so kids in grades 9-12," Aslin said. "Our points of emphasis had already been worked on a lot in the summer, but we had some kids out last week who weren't with us in the summertime, so we still had to see where some guys fit. Basically, we have five or six really talented kids and we're going to see who we can surround them with."
Aslin's belief in speed translates into his pace at practices, as well. It was a routine that took some adjustment for staff, as well as athletes.
"We run a fast type of pace," Aslin said, "and I think it even caught some of us coaches by surprise. The kids were not used to it initially, but by the end of the week they had picked up on it pretty well."
The Braves return about eight starters overall from their 2010 squad and will be expected to be led by Cox, Jackson and Smallwood, as well as senior receiver Stevie Williams, tight end Joseph Dooley and defensive lineman Jose Catreras. In addition to those returning starters, Aslin has seen enough from his team in the first week of practice to pencil in most of the varsity and starting lineups.
"In my mind we're pretty much done as it concerns starters and varsity," Aslin stated. "We have some competition at three or four more spots and we're going to look at those really hard on Saturday when we scrimmage."
A trio of newcomers has also made an impression on Aslin through the first week of practice, and he believes all three can have a major impact by season's end.
"Jerry Knershield is a 5-10, 185-pound sophomore," Aslin said. "He can run very well. At Saturday's scrimmage, he took a screen pass 55 or 60 yards for a touchdown. He has a chance to start as a sophomore and play a lot. He has impressed me so far.
"Jordan Carter is a senior who hasn't played a lot of minutes, but he had a great first week of practice. He's 5-10, 290 and moves pretty well. He had a good camp this summer. And Weston Pitt is a good kid who can play. He will play some corner, defensive back and running back for us."
With so many weapons among the returning seniors, starters, and the fresh faces, Aslin plans on having a multi-faceted attack on offense.
"We're going to be as multiple as we can," Aslin said. "We have three really talented guys in our receiver, tailback and quarterback. We're going to make sure they're not all on the same side so teams will have to look in all directions. We want to be a run-based team, but — at the same time — when you have as good a receiver as Stevie Williams and as big a target as Joe Dooley, we're going to have to be smart scheme-wise. We have a good test early when we take on 5A Topeka Seaman in our first game. They're really big and we may not be able to run as much on them, so we have to be able to utilize other parts of our offense."
Defensively, Aslin plans to be as aggressive on that side of the ball as he was when he was a defensive coordinator at the junior college level.
"I'm more of an attacking defensive guy," Aslin stated. "In my first game as a junior college coach we blitzed 59 out of 75 downs. Our package is simple. We're going to have pressure from a lot of places while trying to make it look not as complicated."
The Braves will play host to the Orange and Black Scrimmage at 6 p.m. Friday at David Jaynes Stadium. They open the season at 7 p.m. Friday, Sept. 2 at home against Topeka Seaman.