Choir inspires pride, joy in Lansing inmates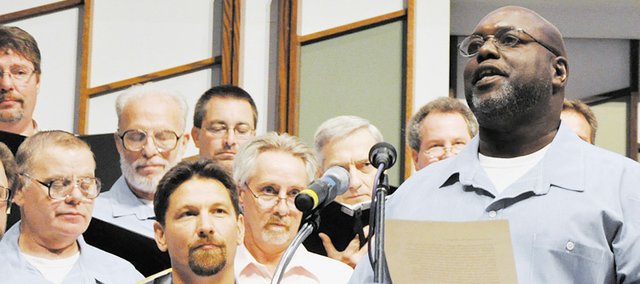 Prison is a place to serve time for a crime, to right what has been wronged, to … learn to sing in a choir?
For about 50 inmates residing in the East Unit of Lansing Correctional Facility, a minimum-security section of the prison, learning to sing is exactly what they have been doing.
The inmates are members of the East Hill Singers, an all-male choir of inmates and community volunteers formed in 1998 by Arts in Prison, Inc.
Based in Overland Park, Arts in Prison is an organization that reaches out to inmates, mostly in facilities in Leavenworth, Johnson and Wyandotte counties, offering classes and activities through which they can express themselves artistically. The hope is that painting, writing or singing will incite positive change and reduce recidivism, or the repeat of a criminal act and subsequent return to prison, among participating inmates.
"Arts in Prison's mission is to motivate and inspire positive change through the arts using arts as a tool," said Leigh Lynch, the organization's executive director. "And what we know is that in practicing art, inmates are given the opportunity for self-reflection; they connect to that which is good inside themselves and they create something beautiful, whether it's a visual art piece or piece of music … They can connect to those positive attributes within themselves. When they do, they begin to hope and they can see a more positive future."
Actually, the organization started two men's choirs at Lansing — one called the Tower Choir made up of inmates in a medium security section. The East Hill Singers, however, get to leave the prison about four times a year to perform public concerts at churches throughout the area.
Of the 35 volunteers who sing with the choir, some are former inmates who had been members while incarcerated. Lynch cites them as proof of the group's effectiveness.
In rehearsal
The inmates rehearse with conductor Kirk Carson twice a week for an hour-and-a-half in the unit's chapel. They don't see the community volunteer singers until about two hours before a performance, when the entire group rehearses in the chosen venue.
Inmate Darryl Porter has been singing bass with the group for three years now, and he says all the work he's put into it "brings satisfaction to my soul."
"It's a great accomplishment," Porter, a soft-spoken 51-year-old from Kansas City, Mo., said during an interview at the East Unit. "I get pride and joy out of it."
Porter is now serving his 19th year in prison for armed robbery, attempted murder and kidnapping. He is expected to face the parole board in 2013. He calls the incident that landed him behind bars in 1992 a result of "the heat of the moment" and hanging out with the wrong crowd.
He says he has been trying to turn his life around ever since.
What motivates him to change?
"Being sent to prison and looking and seeing what's around you and asking yourself, is this what you really want out of life," Porter said. "'No' was the answer to that."
Porter says the East Hill Singers give him one way of making positive changes in his life.
Being in the choir does the same for fellow inmate Michael Buddenhagen, 46, from Pittsburg, another bass with the East Hill Singers. He is going on his sixth year of incarceration for manufacturing methamphetamine. This is his third time around a cellblock. Buddenhagen says he wants it to be his last, though, especially with two sons, whom he admits to not having "been there for … at all."
Buddenhagen sees the East Hill Singers as a way to bond with community members and, hopefully, learn something from them.
"It's just a great opportunity to meet with gentlemen, the volunteers, from the greater Kansas City (area) … They've got their lives together. (It's) kind of a mentor thing I guess," he said. "It's good to just be with different people that's not actually incarcerated, and then going out in the public to sing is a big blessing, too."
"Conducting Hope"
The work going on in and outside the walls of the East Unit has caught the attention of those living well outside of Kansas. Margie Friedman, a longtime television producer in Los Angeles, is shooting a documentary about the singers called, "Conducting Hope." Or she is trying to — funding has been an issue, she says, with the film estimated to cost $310,000 and she having not come even close to raising that amount.
But she said she's had enough funding thus far to shoot a trailer and about three quarters of the film. The documentary will feature interviews with singer-inmates and will document their experience behind bars. Friedman says she wants the film to "show the dedication of the men in the choir; their ability … to work together towards accomplishing a goal."
She and her crew have been to the prison to shoot twice. About four years ago, she had been wanting to shoot a show or documentary about choirs and, after doing an Internet search, discovered the East Hill Singers.
Filming the East Hill Singers idea "just had a lot more interesting layers to it than the other choirs that I had found, one being that they perform outside of prison, which I thought was incredible," she said during a phone interview.
Friedman's most recent shoot was in June, and she says she's hoping to return in the next couple of months. Her project got a boost in July from the Kansas Humanities Council, which awarded "Conducting Hope" a $10,000 grant. In 2009, she received a $9,000 grant from the council.
Friedman also received a $7,000 Francis Family Foundation grant in 2010 and has raised about $3,300 through Kickstarter, a fundraising vehicle through which artists can gather pledges and donations for their projects.
Positive feedback
Porter and Buddenhagen both participated in the documentary, and they said the experience was somewhat grueling — Porter compared it to an 8-hour workday. But they said it was worth the effort because they hope it will show they are not necessarily the sum of the crimes they've committed.
That's a lesson Porter takes to heart. He gives a lot of credit to the East Hill Singers and that "wonderful" feeling of getting positive feedback from audience members for the inner peace he now has regarding his life and past choices.
"It just makes you feel all bubbly inside," he says of audience members' comments after a performance. "(It's like) wow, I put a smile on somebody's face. A person I didn't know got some joy out of something that I did."
The East Hill Singers next perform at 4 p.m. Sunday, Nov. 6, at St. Joseph's Catholic Church 11311 Johnson Drive, Shawnee.