Football goals stay the same at
BLHS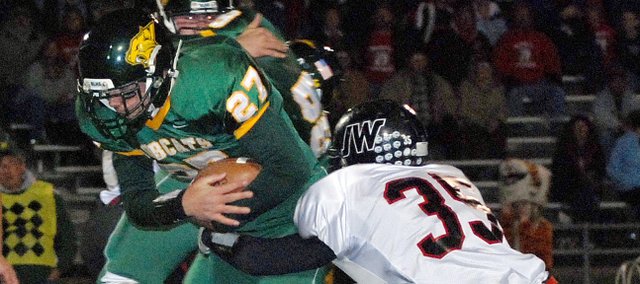 Don't expect Basehor-Linwood High School football coach Steve Hopkins to change his philosophy coming off back-to-back nine-win seasons that ended with early playoff losses.
If there are great expectations for this season, he isn't reading the novel.
The goals are the same as they have been since he arrived at Basehor-Linwood seven years ago.
Taking over a team that won two games that year, Hopkins wanted the team to be as prepared as possible for the first game and then peak in time for district play.
Now, the Bobcats are coming off nine-win seasons and back-to-back Kaw Valley League championships, and while they would like to make a deeper run in the state playoffs, the objectives entering the season haven't changed.
"We want to play well in week one, and a lot of the summer focus is on the first game," Hopkins said. "We want to be a great team in district. We want to not peak at week seven, we want to get better in week seven and keep moving on. We want to get better and be a great team in all three phases — offense, defense and special teams. The goal not changed, but the belief is coming around. That wouldn't change from year to year."
Hopkins knows that each year while top players may return, there is chemistry that needs to be built and new players who have to develop on Friday nights when the game moves faster than practices on Saturday mornings or Monday afternoon.
Sure, Hopkins understands that no team will be happy unless it hoists the Class 4A state championship trophy at the end of the season, but he realizes that each year builds on another and that success often feeds on itself.
In Hopkins' view, football is like building a pyramid where each brick is laid until the top is finished and the goal is reached. One day, if you do things right long enough, then the pyramid is finished.
For example, Louisburg — last year's 4A champion — battled for years to get over the hump, playing in the state title game a number of years ago before cracking the magical barrier last season.
This season begins the same with the Bobcats looking for a strong performance in the first week of the season.
So far, Hopkins has seen early progress this fall.
The first week of practice ended with a 120-play scrimmage. The Bobcats knew enough of the plays and had experience lining up in the proper formations, so they were able to work through a high number of plays during a two and a half hour scrimmage.
The efficient scrimmage is a byproduct of various factors. The team's skill positions are familiar with Colin Murphy at quarterback, twin brother Ryan Murphy at one receiver position and Tanner Garver in the slot position. Ben Johnson returns at wide receiver.
In addition, Jesse Hiss returns in the backfield and is expected to carry the load for the Bobcats.
Hopkins said Drew Potter has been impressive at fullback, and Skylar Ross should help in the backfield.
The team's offensive line is a work in progress and needs to replace Caleb Johnson who graduated.
"We had three or four guys who started, but they have to grow up because we lost Caleb," Hopkins said. They have to pick it up. We have three or four pushing those guys. These guys have played, but they relied on Caleb. The three seniors we have are doing a good job."
Basehor-Linwood also gained efficiency this summer by attending a team camp sponsored by the University of St. Mary, which was actually hosted at Basehor-Linwood High School due to field renovations at USM. In addition, the skill players worked in seven-on-seven drills and as a result the Bobcats are a little ahead of schedule.
"So many kids are experienced, we didn't have to spend as much time teaching plays or fronts on defense," Hopkins said. "They did it at team camp and in seven-on-seven. The biggest advantage is your juniors and seniors feel like they have a grasp of the offense. They were great teachers for our freshmen and sophomores. We have enough kids that only play one side of the ball. The older kids teach the freshmen and help review the sophomores. We feel like we can have our older guys help the younger guys. Finally, we got to tackle and block. We are way ahead. I was amazed we got through so many plays."
On defense, the Bobcats return two talented linebackers in Jesse Hiss and Dalton Mellies, as well as Tanner Garver and Garret Kahle in the secondary.
On the line, Alex Shewmon is expected to contribute. He expects to play some both ways this season. Johnson is a defensive end, and Riley Trowbidge and Drew Potter should bolster the line.
"We always feel like if we line up differently on defense we can frustrate an offense," Hopkins said. "It has paid dividends. Our defense was the key to getting better the last few years. If we can be as good defensively as I think we can, I think we can be in each game."
When these players were in on defense during the scrimmage, the offense didn't do a lot running the football.
"We didn't make much progress; we both feel good and bad," Hopkins said. "We feel like the defensive line can be talented, but we want the offensive line to improve.
As the first game approaches, Hopkins said he has placed a renewed emphasis on special teams this season. He said the team wasn't very good on special teams in the first game of last season. He has spent a lot of time working on special teams. The Bobcats are attempting to find a new long snapper who can step in and play. Potter is an early favorite to fill those duties.
Basehor-Linwood opens the season at 7 p.m. Friday, Sept. 2, at Piper. The team's Meet the Bobcats scrimmage is at 6:45 p.m. today at the high school.