As school begins,
BLHS

freshmen make graduation promise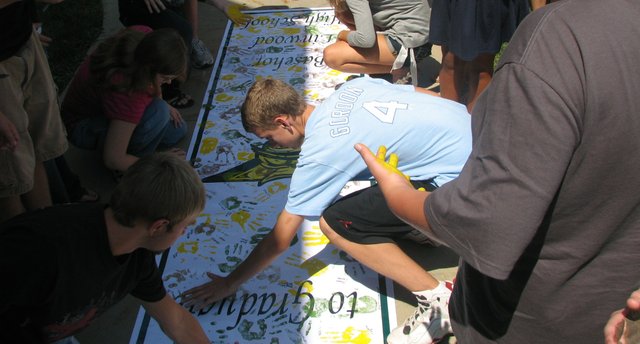 Photo Gallery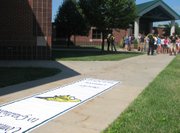 BLHS class of 2015's 'Commitment to Graduate'
On Aug. 19, their first day as freshmen, Basehor-Linwood High School students placed handprints and signatures on a banner marking their commitment to graduate in 2015.
Jarred Fuhrman held his hand high, telling the crowd of about 80 chattering freshmen to quiet down. "Girls in the back," he warned.
It was the middle of the first day at Basehor-Linwood High School for members of the class of 2015, but they were about to turn their eyes toward their last day, four years off.
About 30 feet ahead of the crowd of students, a banner lay on the sidewalk. It read, "Class of 2015 Commitment to Graduate: Basehor-Linwood High School."
The freshmen were to mark the beginning of their high school journey with green, yellow and gold handprints, accompanied by their signatures, Fuhrman told them. The banner will hang in the BLHS halls for the next four years and then be displayed at graduation ceremonies in 2015.
"It may not mean as much to you right now," Fuhrman, an assistant principal, said to the students, "but when you walk across the stage and see that banner that's going to be there when you graduate, it's going to be a big deal."
Because of the size of this year's freshman class — 162 — they would have to squeeze their handprints in tight, he said. But he also asked them to keep in mind the significance of this new BLHS tradition, which the school began last year on the class of 2014's first day.
"I really want you to think about it while you do this," Fuhrman told them.
Numbers have grown this year throughout the Basehor-Linwood school district, superintendent David Howard said. The district's K-12 residential enrollment has swelled to about 1,980 for the 2011-12 school year, an increase of about 50 from 2010-2011.
The biggest growth occurred at Basehor Elementary School, including the intermediate school building that's home to its third- through fifth-graders, Howard said. About 20 more students will populate those schools.
The district's elementary students, as well as the sixth- and ninth-graders starting out at BLHS and Basehor-Linwood Middle School, began school Friday. The rest of the students at BLHS and BLMS began Monday.
After she left her handprint and signature on the "Commitment to Graduate" banner, BLHS freshman Katelynn Singleton said that after a half-day of high school she wasn't too worried about the next four years.
"In movies, people are shoved in the lockers, but I don't think it's going to be like that at all," Katelynn said.
Freshman Melanie Johnson agreed, saying she didn't think the schoolwork would be too intimidating, either.
"It depends on how you apply yourself, I guess," Melanie said.
As freshmen prepared to leave their mark on the banner, upperclassmen painted their palms with green, yellow and gold paint. The upperclassman, part of the school's student ambassadors group, spent Friday showing the new freshmen the ropes, even though they weren't required to be at school until the following week.
Junior Zac Hevel, one of the ambassadors, said he wished his class had gotten to participate in the banner activity. He said he liked the idea of the whole class leaving a memento to hang in the halls forever.
"It's like leaving a piece of yourself behind," Zac said.
Fuhrman said that though for now the banner activity might seem like little more than a chance for the students to cover their hands with paint for the first time since grade school, it would mean more when they see it while wearing their caps and gowns in four years.
"You don't really see the cool part until the actual graduation," Fuhrman said.
Freshman Daniel Robinette, after signing the banner, said he imagined he'd be able to look at it on graduation day and realize how far he'd come.
"It'll probably feel like something was accomplished in my life," Daniel said.