Worker trapped in wall collapse at Fort Leavenworth taken to area hospital with non-life-threatening injuries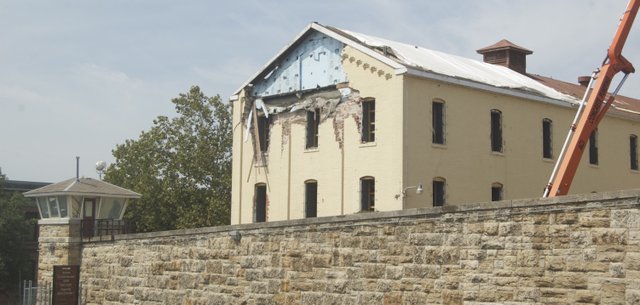 Fort Leavenworth — A civilian contractor was rescued and taken to an area hospital this morning after he was trapped for about two hours beneath rubble from a partially collapsed wall outside a building at Fort Leavenworth.
The man was taken via helicopter to an area hospital with injuries that were not life-threatening, said Army medic Jeremy Warren. No one else was injured in the collapse, Warren said.
Fort Leavenworth officials did not identify the injured man.
The collapse occurred as contractors performed renovations on the former U.S. Disciplinary Barracks complex at the fort, a building more than 120 years old that has been vacant for about 10 years, post engineer Bill Waugh said. The building is being renovated to provide offices or classrooms, Fort Leavenworth spokeswoman Rebecca Steed said.
Waugh said a construction crew was pouring concrete on the interior side of the wall from the third floor of the building at about 9:30 a.m. when the top portion of the wall collapsed, tumbling toward the outside. A contractor working on the ground below was trapped under a pile of bricks and wet cement that fell, Waugh said.
Warren, the Army medic, said that when he arrived on the scene shortly after the collapse, the trapped man's head and shoulders were visible in the rubble, and he was conscious. Warren immediately joined a crowd of people clearing away the debris, he said.
"We just started grabbing handfuls of rubble, trying to get it away," Warren said.
He said the collapse looked as though it could have caused much worse injuries for the man than it did.
"It's one of those things where you hope for the best but kind of expect the worst," Warren said.
Warren did not provide any detail about the man's injuries.
Waugh said a large crowd of emergency medical technicians, paramedics and firefighters helped clear the rubble away by hand, carrying it off in 5-gallon buckets, while others treated the man's injuries. Along with Leavenworth County Emergency Medical Services and the city of Leavenworth Fire Department, first responders from as far as Kansas City, Kan., and Olathe reported to the scene, Steed said.
It took about two hours to remove the man from the rubble, Steed said.
Steed said Fort Leavenworth emergency responders had conducted quarterly readiness drills just last week, helping to prepare them to react to emergencies like the one that happened today.
"They pretty much put that exact same action plan into work," Steed said.
The construction site was shut down after the collapse, Waugh said, as the U.S. Army Corps of Engineers took control of the area to conduct an investigation into the accident.