Native American dance interest grew from Tonganoxie Boy Scout experience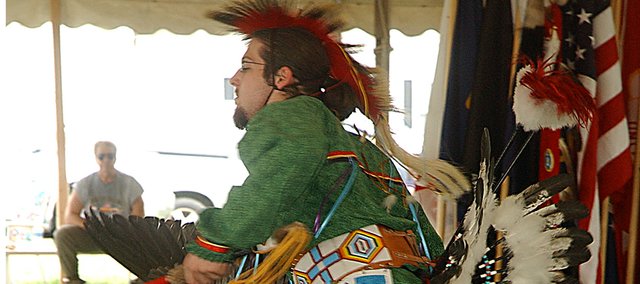 Kyle Robinson was one of the more elaborately dressed dancers circling the tent during Sunday's intertribal dance at the Indian Council of Many Nation's summer powwow.
From the feathered roach that topped his head to the leather fringed moccasins on his feet, Robinson was a moving tribute in color, feathers and beadwork to the Native American warriors of the Great Plains.
But the 20-year-old Basehor man doesn't consider himself a Native American. Robinson said he had a smattering of Native American blood in his family tree, as do many Americans whose ancestry stretches back through multiple generations. His seven-year interest in Indian dance and culture stemmed from his Boy Scout days and his association with the Mike Henre family of Tonganoxie.
Henre is president of the Indian Council of Many Nations, which sponsored the weekend powwow, and scoutmaster with Tonganoxie Boy Scout Troop 357. Scouting and interest in Native American culture are natural partners with Scouting's Order of the Arrow national honor society and the regional Mic O Sah honor society, he said.
Henre said his son Chester (who rarely dances now because of an injury) taught Robinson the intricacies of the traditional dance performed at powwows.
"Kyle was working to join the Order of the Arrow," he said. "He asked Chester if he could teach him traditional dance. Chester said he would but that he would have to practice and do what he said."
Henre said he, his wife, Nancy, and friends also made much of Robinson's regalia and 90 percent of that worn by others in the Scout troops dance team. But again he gives credit to Robinson for carrying through with the details.
"He started with the bustle (a feathered adornment worn on the lower back) himself," Henre said. "He danced at the 2008 National Scouting Conference. He received top points in everything. The judges especially liked his bustle."
Robinson said his dance regalia was that of a powwow's traditional dance, which represents a warrior scouting before battle. Other styles include gourd dancers and the more elaborate and athletic fancy dancers.

His regalia wasn't inspired by any one tribe but instead reflected his personal preference of styles from different tribes, Robinson said.
Dressed in a Native American gown, Kyle's mother Joan enjoyed a quiet conversation Sunday after the intertribal dance with Dee White Eye of Independence, Mo. The powwows have become family outings for the Robinsons as they are for Native American families, she said.
"I like the way they have togetherness," Joan said. "Powwows are special gatherings and celebrations of all kinds of things. At this weekend event parents and children have camped, cooked and danced together.
"And I've meet such wonderful people as Dee White Eye."
The welcome extended to his participation in powwow dances at the Indian Council of Many Nation's summer and winter powwows and others in area, Robinson said.
"People here are welcoming to almost everyone," he said. "They invite anyone to come learn about native traditions."
In addition to the powwows, Robinson attended the Indian Council of Many Nation's seminars in the spring, which he recommended to others interested in learning more about Native American culture.
To learn more about the council's activities, visit its Web site at www.kc-icmn.org.