Tonganoxie football coach Mark Elston resigns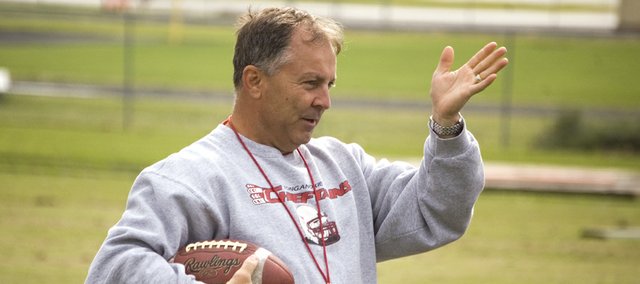 Mark Elston didn't think his last day as Tonganoxie High football coach would come two days before the start of the season.
He deemed that necessary, though, after being suspended Tuesday from his coaching duties by school officials following events that took place between Elston and a player during Monday's practice.
Wednesday afternoon, Elston submitted his resignation.
"I just did what was best for the kids," Elston said of stepping down. "We've got to move forward on this and there's no point dragging it out… For their sake, for my sake, for the betterment of my family and those kids, let's move on."
The embattled former coach did not wish to divulge the exact details of Monday's altercation, such as which player he was reprimanding or what he said or did during the exchange. The Mirror later confirmed that the player Elston got after was sophomore linebacker Jordan Boudreaux.
What Elston did say, however, was that Boudreaux was being scolded because he had just "flat annihilated and blindsided" freshman quarterback Carl Hecht even though Hecht was wearing a green jersey, which signifies he's not supposed to be touched.
In the moment, Elston said, his immediate reaction to get the situation solved was to verbally go after Boudreaux for making a hit that left Hecht lying injured on the ground.
"I've got to protect my players by whatever means necessary," Elston said.
Boudreaux's grandfather and guardian Jules Boudreaux told The Mirror he thought Elston responded in the correct manner. Jules described Jordan's account of the situation: While removing defensive players from the pile on top of Hecht, Elston picked Jordan up — not to hurt him, but to verbally discipline him.
"There was some instruction being given to him in a loud manner but that's not a confrontation really," Jules said. "It's an emotional game for players and coaches."
According to Jules, Elston didn't use any "vile language" or physically abuse Jordan while yelling at him. Jordan told his grandfather he was not upset about the coach's approach.
Said Elston: "As coach and a parent, I did what I thought was correct at the time of action — at that time for that individual."
Elston, who was beginning his 12th year in Tonganoxie, said he had warned Boudreaux before about the hits he was delivering at practices.
"I love him to death, but I've been on him for three weeks now to stop it and I reached my limit," Elston said.
The coach said he was caught up in the moment and he understands how others could disagree with his actions at that time.
"You try to do the right thing at all times in all situations," he said. "The right thing for person A might not be the right thing for person B."
According to Elston, a person at Dollar General, across U.S. Highway 24-40 from the THS practice field, saw the incident and reported it to the school. He described that as "getting a snapshot view" in 35 seconds of a three-week long situation.
"What he saw, he saw. I'm not going to deny it," Elston said.
Jules questioned why the exchange was ever reported to THS officials.
"Why somebody else got involved in it and reported it out of context, I have no idea," he said.
Elston, in Jules' opinion, wasn't overstepping his boundary with Jordan. The player's grandfather said he thought the reprimanding was appropriate for the actions that had transpired.
Jules said he was disappointed to learn of Elston's resignation.
"I feel bad. And I feel bad for Mr. Elston, and I feel bad for Jordan, because some of the teammates think Jordan or someone form his family complained and were responsible for this," Jules said.
"There are some people in town who would like to see Mr. Elston go, and I'm not one of them."
Hecht's mother, Beth, told The Mirror that Carl did not suffer a serious injury on the hit that led to the incident. She said after Monday's practice her son was just dealing with the normal aches and pains of playing football.
Beth did not wish to comment on Elston's actions, but did say she thought it was good that coaches are trying to teach high school players about the proper way to make hits.
A statement released by USD 464 Superintendent Randy Weseman Wednesday afternoon announced the coach's resignation.
"Mark has made significant contributions to our football program," Weseman said in the statement. "We appreciate his service to our kids and the school district."
THS defensive coordinator Matt Bond has been named interim head coach.
The Chieftains practiced Wednesday afternoon without Elston. Bond and assistants Brad Shelton and Scott Peavey ran practice.
Bond declined to comment on Elston's resignation, as did the THS players.
Said senior linebacker Ryan Lynch: "None of us are gonna be in the mood to talk today."
Tonganoxie's season opens at 7 p.m. Friday at Bishop Ward, in Kansas City, Kan.