Approach new, but goals stay the same for
BLHS

 girls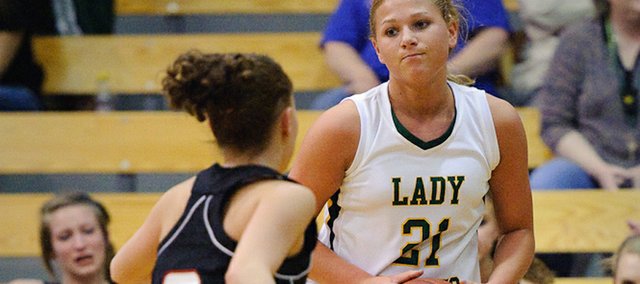 The 2011-2012 Basehor-Linwood girls basketball season likely won't resemble the past few seasons, at least not in terms of the players on the court and some of the coaching strategies.
The Bobcats graduated five seniors who formed the nucleus of a squad that placed third at the Class 4A state tournament last year. That team didn't go particularly deep on its bench, meaning a majority of the experience was lost to graduation as well.
As a result, fifth-year BLHS coach Noah Simpson is adjusting some of his philosophies to accommodate his squad's depth. Rather than playing a seven-person rotation as he did last year, Simpson said he plans to play 13 players early in the season to determine what rotation works best.
Still, Simpson has a few known commodities on the roster that he will count heavily upon. Among them is Jamie Johnson, the squad's top returning scorer.
"Johnson should score a lot for us and do a great job," Simpson said.
In addition, Bailey Hooker returns as the team's most heralded post player.
"Bailey Hooker has had a great first two weeks," Simpson said. "She is going to have a great senior season. I think it took her awhile to learn our system and understand what we do. She has bought in and has it down. Last year we had so many offensive sets and set plays, and she was spending time trying to do it perfect. This year she's playing at full speed and doing the things she needs to be successful at. She will be extremely valuable."
Cara McCarty also returns and is considered the Bobcats' shut-down defender.
"I would put her up against any player in the state in terms of defensive play," Simpson said. "That is her role — to go out and shut down the opponent's best offensive player. It is good to have her back."
Maggie Hattock is the team's other senior. She has limited varsity experience, but she is an extremely accurate 3-point shooter.
"She is a great shooter and knows the offense well," Simpson said.
Sophomore Victoria Smith is another top returner who should play a lot of minutes.
Simpson said he was pleased with the Bobcats' effort in practice.
"We have had a great first two weeks," he said. "We have a lot of kids that are working hard and focused on working hard and getting better each day. Our big thing is that with graduating as many seniors as we did, we are back in the same boat as we were after the first year we went to state. These kids have taken stock of the situation and are working hard. It has been a great two weeks. We are ready to go play somebody and get into some games."
BLHS plays host to St. Theresa's (Mo.) Academy at 7 p.m. today and then plays at 6 p.m. Friday at Tonganoxie. Last season, BLHS rallied to defeat Tonganoxie 38-37 and 31-28 in a pair of hard-fought contests.
This early in the season, Simpson said he would be excited to see how much his players had learned.
"I think we are still anxious to find out what each kid is going to do," he said. "We know each kid is going to bring it defensively. This could be one of the better defensive teams we have had in the last five years, which will help our offense. The thing we preach is if you want to play, it is all about defense."
BLHS also plays Piper and Topeka-Hayden before Christmas break. Other non-league games will be played in the Bobcat Invitational and against Sumner Academy.
While some might think the Bobcats are reloading this season, Simpson said the goals haven't changed much.
"Like I told the kids, we are at a point in our program where the goals don't change year in and year out," he said. "We want to make a run late in the season and be playing well going into the state tournament. Our kids have bought into that. We want to get better early on, clicking by February and try to get back to state."