Basehor-Linwood girls hold off Tonganoxie
Tonganoxie — It's never an easy game when the Basehor-Linwood girls play Tonganoxie in basketball, and Friday's meeting at THS was no different.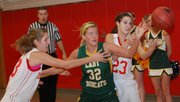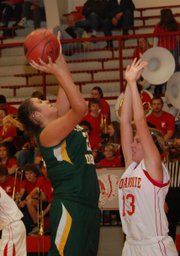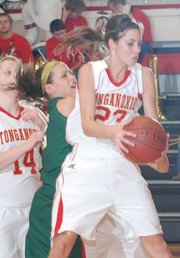 The Bobcats trailed for only 3:16 of the game — and that came during the first quarter — but they never quite managed to shake the Chieftains. The Bobcats built eight-point leads on multiple occasions only to see Tonganoxie battle back.
Ultimately, Basehor-Linwood prevailed, 41-38.
The Bobcats scored the first four points of the game on buckets by Victoria Smith and Jamie Johnson, but Tonganoxie answered with a 6-0 run as Jenny Whitledge scored on a put-back and Tavia Brown had back-to-back layups. After Johnson tied the game with a 17-footer, Brown converted a three-point play and gave the Chieftains a 9-6 lead. Basehor-Linwood closed the first quarter on a 7-0 run, however. Maggie Hattock's 3-pointer in the final seconds boosted the lead to 13-9, and it appeared the Bobcats were taking control.
BLHS then scored the first four points of the second quarter as Smith scored on a layup on Cara McCarty's drive and dish, and then Johnson had a steal and coast-to-coast layup. The Bobcats maintained their eight-point lead for a while, but soon Tonganoxie's full-court man-to-man defense caught up with them. The Bobcats turned the ball over four times against the press in the final five minutes of the half, and Whitledge put the Chieftains on her shoulders by scoring six of their final seven points of the half to cut the Basehor-Linwood lead to just 24-20.
A bucket by Bailey Hooker on the first possession of the third quarter appeared to give the Bobcats some renewed momentum, but Tonganoxie answered right back with some hard work on the backboard. After misses by Hannah Kemp and Haley Smith, the third try was the charm for Emma Stilgenbauer as she brought THS back within four. A jumper by Cara McCarty and a free throw by Johnson pushed the Bobcats' lead back to seven at 29-22, but the Chieftains again stormed back. Kemp buried a baseline jumper and later drained a 3-pointer from the top of the key during a 7-4 run that brought THS within 33-29 entering the fourth quarter.
Johnson drained an 18-footer early in the fourth quarter, and then she made a steal and assist on a layup by Amber Garver as the Bobcats opened up a 37-29 lead with 6:24 to go in the game. Out of a timeout, Tonganoxie battled right back as Madee Walker swished a trey from the left wing. Then Kemp made a steal and coast-to-coast layup to pull THS within 37-34 with 4:38 to go.
From there, the Bobcats hung on for dear life. Tonganoxie's pressure defense gave BLHS problems, but the Bobcats' zone was equally effective at keeping the Chieftains at bay.
A 17-footer by Johnson and a free throw by Victoria Smith pushed the lead back to six points late, but a bucket by Brown kept THS close. Johnson tacked on a free throw with 16 seconds left for some extra insurance. Whitledge answered with a put-back at the other end, but the ball went through the net as time expired and Tonganoxie's comeback bid came up just short.
Basehor-Linwood improved to 1-1 with the victory. Tonganoxie fell to 0-1.
SCORE BY QUARTERS
BLHS 13 11 9 8 — 41
THS 9 11 9 9 — 38
BASEHOR-LINWOOD — Jamie Johnson 7-18 3-6 17, Bailey Hooker 4-8 0-0 8, Maggie Hattock 3-7 0-0 7, Victoria Smith 2-3 1-3 5, Cara McCarty 1-3 0-0 2, Amber Garver 1-3 0-0 2, Alex Gorman 0-4 0-0 0.
TONGANOXIE — Tavia Brown 6-8 1-3 13, Jenny Whitledge 3-13 4-8 10, Hannah Kemp 3-9 0-2 7, Emma Stilgenbauer 2-4 1-2 5, Maddee Walker 1-6 0-0 3, Haley Smith 0-6 0-0 0, Katelyn Waldeier 0-3 0-0 0.