BLHS

boys crush Tonganoxie in opener
Tonganoxie — The Basehor-Linwood boys looked every bit the No. 2 team in the state in Class 4A during their season-opening 74-38 rout Friday at Tonganoxie.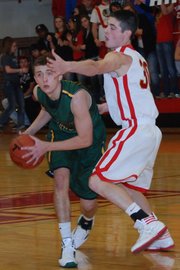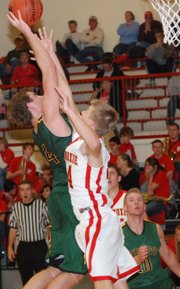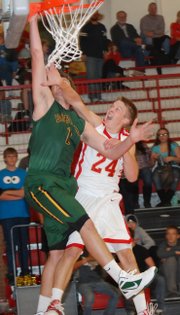 The Bobcats received 47 points from their big three — Ryan Murphy, Colin Murphy and Ben Johnson — and a confident showing from a supporting cast full of fresh varsity faces.
Tonganoxie kept close for a quarter but simply didn't have enough answers.
The Chieftains kept BLHS off the board for the first two minutes and took an early lead on a layup by Dylan Jacobs. Four free throws by Ryan Murphy pushed the Bobcats ahead, however. Tonganoxie then tied the game 4-4 on a layup by Dane Erickson, but that was as good as it got for the Chieftains.
Basehor-Linwood used a 7-0 run — two free throws from Colin Murphy and a layup and 3-pointer from Ryan Murphy — to surge ahead 11-4. Tonganoxie settled down for a few possessions after that, but the Chieftains trailed 15-9 after one quarter.
The squads traded buckets early in the second quarter as BLHS maintained a 23-15 lead, but it was the Bobcats' finishing kick that turned a comfortable lead into a rout by halftime. Colin Murphy scored seven points and Ben Johnson added five during a 14-1 run to close the half as the Bobcats built a 37-16 lead.
Seven different Bobcats scored during the third quarter, and they continued to extend the lead even as Erickson and Keaton Truesdell headed up for the Chieftains.
BLHS led 61-33 entering the fourth quarter. A put-back by Chase Younger on the first possession of the fourth quarter stretched the lead to 30 points and the final 7:30 was played with a continuous clock. Basehor-Linwood's reserves got in on the scoring barrage in the fourth quarter as Zach McNabb buried two 3-pointers and J.P. Downing swished a trey.
BLHS outscored THS 13-5 in the fourth quarter.
Erickson led Tonganoxie with 13 points as the Chieftains dropped to 0-1 for the season.
BLHS received a game-high 19 points from Ryan Murphy and 14 apiece from Colin Murphy and Johnson. The Bobcats are 1-0.
SCORE BY QUARTERS
BLHS 15 22 24 13 — 74
THS 9 7 17 5 — 38
BASEHOR-LINWOOD — Ryan Murphy 6-10 6-6 19, Colin Murphy 5-11 4-8 14, Ben Johnson 6-9 1-4 14, Chase Younger 3-5 2-2 8, Zach McNabb 2-4 0-0 6, Brad Waterman 1-1 2-2 4, J.P. Downing 1-1 0-0 3, Tim Sanders 1-1 0-0 2, Caleb Hiss 1-3 0-0 2, Tanner Garver 1-1 0-0 2.
TONGANOXIE — Dane Erickson 6-8 1-1 13, John Lean 2-8 1-2 6, Keaton Truesdell 1-3 2-2 5, Dylan Jacobs 2-3 0-1 5, Eric McPherson 2-5 1-3 5, Josh Ghale 1-2 0-0 2, Ben Williams 0-1 1-3 1, Colby Yates 0-5 1-2 1, Tyler Ford 0-1 0-2 0.