Middle-school 'Patriot' reaches state level of
VFW

essay competition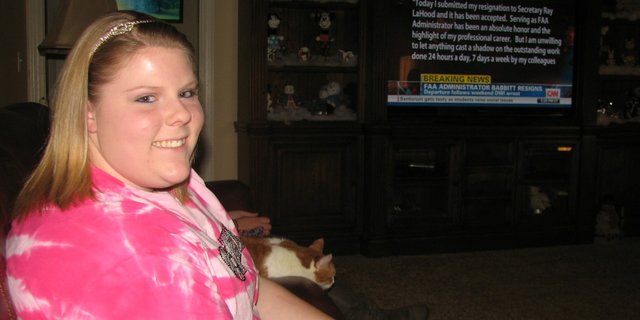 Alyssa Foster's winning essay
We are America. The land of the free. The home of the brave. We are one United Nation under God. We have our flaws. We have our accolades, but those aren't what define us. We have pride.
Our Founding Fathers built this country on hope. From the Declaration of Independence to the American Constitution, our country has been shaped into what is known as America.
The United States has such a strong foundation that nothing can tear us down, despite our weaknesses and flaws. From natural disasters to terrorist attacks, we continue to be aggressive in taking action. After disasters, communities unite to put towns back together. When an attack occurs, soldiers battle like it's the last day they'll live. They give their all for this country.
Every citizen needs to have pride. They need to have pride in themselves, and they need to have pride in their country. Being proud of your country doesn't mean you support everything, but standing firm in your beliefs. Having pride means you love, support, and encourage your country no matter what the circumstances are. You stand behind your country when others are in doubt.
American citizens play a significant role in the future. Their ability to adapt to the constant demands in life is bewildering. Without our devoted citizens, we wouldn't be America!
What distinguishes us from other countries is our ability to accept others for who they are and encourage them to chase after their dreams. America is aggressive in how we pursue our dreams. In America you can be independent. We open up to other people, letting them live their dreams to the fullest.
We have come a long way from the 13 original colonies to what is now the United States of America. When the immigrants came over to America and saw the Statue of Liberty, they knew there was hope for them. They came here to chase after a new chance at life. They were finally home.
Outside of our home is a war zone. Every day fearless soldiers fight to protect us. If we didn't have brave patriots out on the battle field protecting our future, our beloved country would perish!
Being proud is a choice. I have made my choice. I am grateful for what our country has become. I feel honored to call this outstanding place my home. I am proud to say, "We are America."
Pieces of paper, filled with passages that had been scratched out and rewritten, were spread across the Foster family's dinner table as Alyssa Foster worked on her VFW Patriot's Pen essay earlier this fall, her mother Linda remembers.
Alyssa wasn't going to type her essay up until she was sure it was perfect.
"She would keep adding things and changing it until she finally had it the way she wanted it," Linda said.
Alyssa, an eighth-grader at Basehor-Linwood Middle School, guesses that she spent about 10 hours, most of it outside of school, writing and rewriting her 400-word entry for Patriot's Pen, an annual essay contest for middle-schoolers sponsored by the national Veterans of Foreign Wars organization. At an all-school assembly last week, she learned of the fruit of those hours of work: a victory in the Patriot's Pen contest in one of nine VFW districts in the state, and a chance to compete for the state title.
Since she was one of 10 winners picked by the Basehor VFW Post in last year's Patriot's Pen competition, Alyssa said, she'd hoped to advance further this year. But the hours she poured into the essay are typical of anything she writes, she said.
"Whenever I write something, if I don't put all my effort into it, I don't really appreciate it and feel proud of what I did," Alyssa said.
Along with the other nine local winners picked by Basehor VFW volunteers, Alyssa received a $100 savings bond. She won another $150 bond for her district victory, and if she wins the state contest, she'll have a chance to win up to $10,000 in the national competition. State winners will be announced in January.
Students entering this year's Patriot's Pen contest across the country were asked to answer the question "Are you proud of your country?" In her essay, Alyssa wrote about the United States' ability to withstand attacks and disasters, Americans' abilities to accept others and pursue their dreams and the bravery exhibited by American soldiers.
"Being proud is a choice," she wrote. "I have made my choice."
Basehor VFW Post Quartermaster Dan Stueckemann served as chairman of the Basehor competition as well as the VFW District 1 competition, which covers the northeast corner of the state. He surprised Alyssa at an assembly last week by telling her she'd won the district contest.
VFW Post volunteers read about 400 entries altogether from students at the middle school, Stueckemann said. Members from other nearby posts helped judge the district competition, where another BLMS student, seventh-grader Calder Hollond, took second place. Stueckemann said it was the first time Basehor post winners had taken the top two spots in the district.
Alyssa's sister Madisyn, a BLMS seventh-grader, said her sister's surprise showed when she found out she'd be competing in the state contest.
"She was shocked," Madisyn said, "and her mouth just dropped."
Larry Booth, an eighth-grade English teacher at BLMS, said he assigned the students to prepare a Patriot's Pen entry each year, using it as an opportunity to teach them about the writing process. He doesn't grade the finished essays, he said, and he leaves the content of the pieces up to the students.
"The kids surprise you sometimes with their thought," Booth said.
Alyssa said a great deal of thought went into her entry, indeed. After thinking for nearly a year about what she would write, she spent about two hours planning her essay and about eight more writing it, she said. This was her third year writing an entry.
"I think it was a lot better, because I took a lot more time and put a lot more thought into it than the previous years," Alyssa said.
Writing has long been a passion for Alyssa, she said. In fifth grade, she and a few friends would skip the playground during recess and instead go to the school computer lab, where they produced a newspaper that they distributed to their classmates. This year, she is a yearbook co-editor at the middle school.
Alyssa's father, Chris Foster, said he hadn't read her essay until after it had won the district contest. When he did read it, he was amazed.
"The thought and insight she put into it, for someone her age, kind of astonished me," Chris said.
Chris said the family talked often about current events, military issues and patriotism. A great-grandfather of Alyssa's landed at Normandy on D-Day, fought in the Battle of the Bulge and told of seeing German concentration camps during World War II. A great-uncle was a survivor of the Pearl Harbor attack 70 years ago Wednesday.
Alyssa said she'd enjoyed hearing members of the Basehor VFW speak in school several times, as well.
"I like how we have a local VFW, because we learn a lot from them," Alyssa.
Alyssa couldn't stop smiling when she found out she'd won the district Patriot's Pen contest, she said. But in her winning essay, she noted that patriotism transcends awards and honors.
"We have our accolades, but those aren't what define us," Alyssa wrote. "We have pride."