Basehor fifth-grader with deep military lineage gives back through Wreaths Across America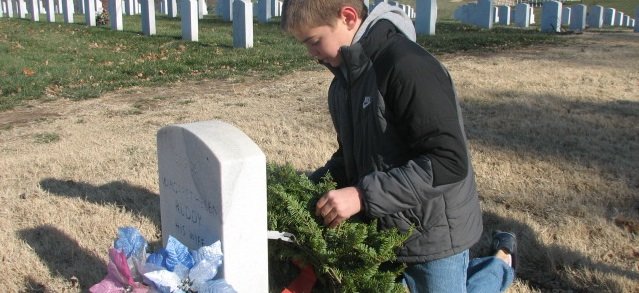 Photo Gallery
Wreaths Across America at Leavenworth National Cemetery
Basehor-area students, school staff, Cub Scouts and VFW Post members participated Saturday in the annual Wreaths Across America ceremony at Leavenworth National Cemetery, during which more than 800 memorial holiday wreaths were placed on veterans' headstones to honor their sacrifices. The ceremony takes place simultaneously with others across the country, including one at Arlington National Cemetery in Virginia.
When Connor McEnerney was in second grade, he heard that his school was raising money to lay wreaths on veterans' graves for the holidays.
So, unbeknownst to his parents, Connor grabbed a wallet where the family kept money he'd been given — his father guessed that he had about $50 in all — and pulled out $20, and dropped it in a donation jug at the school's front desk the next day.
When he told his parents what he'd done at dinner that night, they were touched, said Bobby McEnerney, Connor's father and a Marine veteran.
"It was one of those emotional nights," Bobby said.
His parents, then, were not surprised when this year Connor, now a fifth-grader at Basehor Intermediate School, said he wanted to go to Leavenworth National Cemetery to participate in the Wreaths Across America event to which he'd first donated as a second-grader. His mother, Paula McEnerney, took him to the ceremony Saturday, along with his younger sister Carly and some friends (his father had to work).
This is the fifth year that BIS and BES have helped in the effort to memorialize the veterans buried at the national cemetery, which is conducted each year simultaneously with other Wreaths Across America events across the country. The effort is led by BIS teacher Michelle Ablard and the school's fifth-grade students, who this year raised about $3700 to purchase wreaths to lay on graves, through bake sales and donations.
This year, the BIS/BES group paid for 370 of about 800 wreaths laid at the Leavenworth Ceremony, said Lt. Col. Ronald Behm of the Civil Air Patrol New Century Composite Squadron, who was the master of ceremonies at the event. Ablard guessed that about 30 Basehor-area students came to the ceremony to lay wreaths, as well. Members of Basehor Cub Scout Pack 3169 also helped, as well as several school staff members, including BES principal Teri Boyd.
Ablard said she led up to the fifth-graders' Wreaths Across America effort with weekly visits from Basehor VFW Post 11499 members who told the students about their experiences serving in different wars. The event ties into history lessons about America's founding and the Revolutionary War, she said.
Many students take the cause to heart, she said.
"It's their way to stop and say 'Thank you' and to take a moment to remember the price of freedom," Ablard said.
Connor McEnerney said he'd enjoyed hearing from the veterans during the past few months.
"I thought it was really cool to hear their stories — good stories to tell," Connor said.
He said the Wreaths Across America cause was also special to him because of his father's service in the Marines, as well as other family members who have served in different conflicts in the Navy and the Army.
Bobby McEnerney, who served in the Marines from 1987 to 1992 and transported cargo in the Gulf War, said Connor had taken an interest in the military from a very young age. He remembered telling Connor about his service as they watched news coverage of the wars in Iraq and Afghanistan when he was 3 or 4 years old. They've talked about the service of other family members, too, including a great-grandfather who emmigrated from Germany and fought opposite his brothers in Europe during World War II.
When the VFW members spoke in class earlier this year, Bobby said, Connor would talk about their stories at the dinner table afterward.
"I don't think he takes his freedom for granted," Bobby said. "I think he understands that in other countries there's a lot of distress, and that's why a lot of people want to come to America. I think he really gets that."
Connor said he enjoyed the sight of the rows of graves lining the national cemetery's hills and found it interesting examining the headstones there to see in what wars the veterans fought.
"It was really special," Connor said.
The section where participants laid wreaths Saturday was one of the oldest parts of the cemetery and contains many veterans of the Spanish-American War, fought in 1898, who died in the Philippines, said Bill Owensby, director of the Leavenworth National Cemetery Complex. Many of their burials happened before the area was part of an official national cemetery, he said.
In all, about 36,000 people are buried in the cemetery, Owensby said.
If Connor ends up serving in the military, he said, he thinks he'll join the Marines, like his dad, or the Navy, like his great-grandfather — or maybe the Army, he said after a pause with a smile, because another great-grandfather served in that branch. Whatever the case, he said, he takes pride in his family's military heritage, especially his father's service.
"He's awesome," Connor said.