Shawnee laying groundwork for riverfront 'Eco-Commerce Center'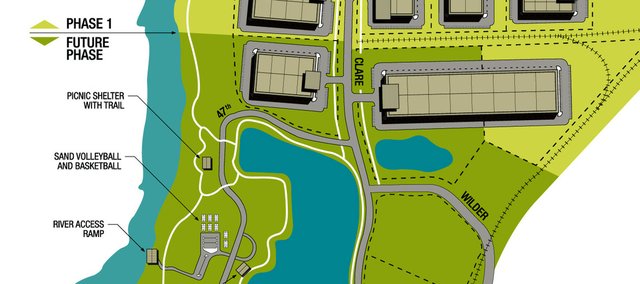 Related document
At a tract of empty land flanked by the Kansas River and Kansas Highway 7, there's more going on than meets the eye.
The 182-acre stretch is envisioned to one day become the Shawnee Eco-Commerce Center, an environmentally friendly business park development and recreational riverfront park. The area has been discussed as a potential candidate for receiving infrastructure improvements or incentives from the city's new Economic Development Fund.
At a recent joint meeting between the Shawnee City Council and Shawnee Planning Commission, city engineer Doug Wesselschmidt updated some of the city's efforts to research possibilities and gauge interest in the long-term project.
"It may take a while but we need to get moving on it now," Wesselschmidt said, "because we potentially could be missing some opportunities for a large business park use if we don't have an area in our city that we can show them."
A feasibility study indicated that sewers could be installed at the site, Wesselschmidt said, and staff is working to gain support for creating a sewer district.
Staff also is reviewing potential competitors in the area and recently teamed with the Shawnee Economic Development Council to create a promotional pamphlet for the site, which was mailed to a number of prospective business park developers nationwide.
A conceptual color sketch shows 11 buildings ranging from 100,000 square feet to one that's 1 million square feet — as large as the Coleman warehouse facility in Gardner, Wesselschmidt said.
Rather than smokestacks and heavy industry-type operations, the city envisions distribution centers and office buildings.
In particular, the pamphlet says, Shawnee wants the park to be a model for sustainable site design and best management practices, a home for "green businesses of the future." Features could include pervious parking lots, solar or LED street lighting, water conservation methods, green roofs, wind power and geothermal heating and cooling.
The Kansas Department of Transportation has proposed a new interchange at K-7 and 43rd Street, to be constructed as warranted by development, the pamphlet says.
In the sketch, just south of business buildings lies a 144-acre lake with a picnic shelter, sand volleyball and basketball courts, picnic shelters and an adventure course. Trails flank the river and circle the lake.
Yet, challenges abound.
For one, the property is held by multiple owners, which could make land assemblage difficult. Wesselschmidt noted that those owners probably didn't buy the land for farming, either.
"They bought the ground to sell it," he said.
Also — until Holliday Sand and Gravel Co. excavates enough materials to form a lake and lift the remaining ground up — the recreational portion of the plan and the southernmost buildings are in a floodplain.
Wesselschmidt said excavation is moving north to south, which would enable buildings to be constructed before the lake is complete. The entire excavation could take 10 to 20 years.
Wesselschmidt said next-steps included completing a return-on-investment study, considering pursuing a master developer and deciding how much, if any, public money should be invested.
Perimeter Park, Shawnee's other large business park near K-7 and 83rd Street, is nearly full, Wesselschmidt said. He said that leaves limited "inventory" until the Eco-Commerce Center gets off the ground.
City Manager Carol Gonzales said, given the current slow economic climate, "This is a good time to be planning."