Water superintendent to retire after 30 years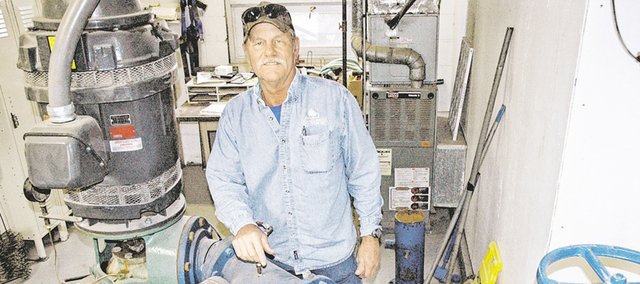 Dale Allen remembers one winter, the water line on the Kansas Highway 7 bridge froze, and city crews spent 30 hours out in the frigid temperatures trying to thaw it.
He has to admit, he won't miss situations like that.
Allen will retire Friday as the Bonner Springs Utilities Department's water operations superintendent, ending more than 30 years with the city, and a retirement reception in his honor is planned today. But the funny thing is, when he took the job in 1980, he didn't even know the city had a water plant.
Dale was born in Bonner Springs and graduated from Bonner High School in 1973. He first worked for two years at the Safeway Cereal Plant, and then worked in home construction.
But when the economy started to slow down home construction in 1979, he started looking for other options and learned about a maintenance operator position with the city's water plant.
"I didn't even know the water plant was here until I came down (for the interview)," Allen said. "I grew up in this town and I never even knew the building existed. I had to get directions."
Though Allen had no prior knowledge about water operations, his willingness to learn led to a 30-year career.
"It was an interesting thing once I figured out what all it took to process the water, and I just thought 'Hey, this is a good field to work in,'" he said. "It was new then; there weren't a lot of people getting licenses, and the city would pay for schooling."
Allen became a certified treatment operator, accumulating more than 300 hours to complete course work and attend workshops to attain state certifications in both water and wastewater. He earned his associate degree in Environmental Water Technology from Fort Scott University.
He became water operations superintendent in 2008 and now oversees the operations of the water treatment, which includes the city's five wells, treatment facility, the storage and pumping facility, and the entire distribution system. He also supervises a staff of eight utility operators.
Allen said his work was fun, but not without its challenges. He said the water treatment operators are basically on call 24 hours a day, seven days a week, no matter what the weather or time of day, should there be a water main break or other issue.
"The weather changes and the mains break whenever they want, and we've always tried to fix them as soon as we can," he said.
That's why he said he hopes Bonner Springs residents take the time to learn more about what the city does to provide them with water.
"Most of the people in this town don't even know we make water; they just turn on their faucet," he said.
The open houses of the water plant in the past three years have helped with public education, Allen said, but he knows there are still those who complain about increasing water costs.
"They think water is cheap, and water is cheap … but in order to maintain a system that's been in the ground since the 1920s, it needs fixed," he said. "If people want the quality they expect, you've gotta pay for it."
Things are changing, and Allen said it is becoming harder to keep up with the new computerized systems, so he decided it was time to turn the job over to the younger generation.
Allen's retirement reception is set from 1:30 p.m. to 3:30 p.m. today at the Public Works Joint Operations Facility, 12401 Kaw Drive.