Grinter event demonstrates holiday traditions of the 1800s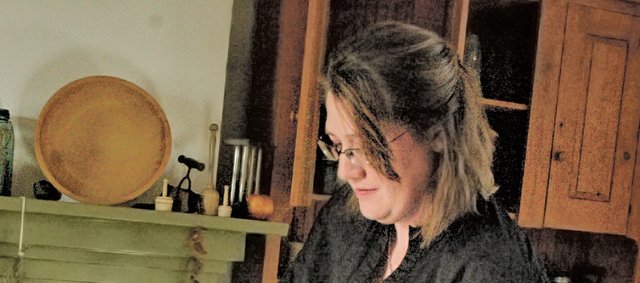 Traditional holiday recipes
Wassail
• 32 ounces cranberry juice
• 32 ounces apple juice
• 3 apples cored and diced
• 3 oranges quartered and squeezed
• pinch each of nutmeg, allspice, cinnamon and ginger
• ¼ cup honey
• ¼ cup sugar
Combine ingredients and simmer on the stovetop until hot enough to your liking.
Apple fritters
• 1 beaten egg
• 1 cup milk
• 1 cup finely-chopped or grated unpeeled cored apple
• ¼ cup sugar
• 3 tablespoons orange juice
• ¼ teaspoon salt
• 2 cups all-purpose flour
• ½ teaspoon vanilla
• 1 tablespoon baking powder
• vegetable or other oil for frying
• Sifted powdered sugar
In mixing bowl, combine beaten egg, milk, chopped apple, sugar, salt, orange peel, juice and vanilla. Stir together flour and baking powder; fold into egg mixture, stirring just until all flour is moistened. Drop batter by rounded teaspoons into hot oil (350 degrees). Fry until deep golden brown, about 3-4 minutes, turning once. Drain fritters thoroughly on paper towels. Roll in powdered sugar or sift sugar over tops.
Yield: About 40 fritters
– Recipes contributed by Grinter Place
Photo Gallery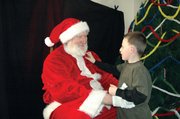 Holiday at Grinter
Photos from the Holiday at Grinter event, which was Dec. 10 at the Grinter Place Historic Site.
Back in Moses and Annie Grinter's day, the holiday season wouldn't have been complete without a Christmas tree decorated with finger-woven yarn chains, hot apple fritters baked in a cast-iron oven and a warm cup of wassail.
Organizers with the Grinter Place State Historic Site brought many of the Grinters' holiday traditions back to life Saturday with their second annual Holiday at Grinter. The event, which honors holiday traditions of the 19th century, drew about 55 people to the Grinter House — the oldest standing home, built in 1857, in Wyandotte County.
Holiday at Grinter included traditional crafts, such as candle-making and finger-weaving yarn chains for the Christmas tree, as well as musical performances from Uncle John and the Potlickers, an acoustic band based in the Kansas City area, and members of the Sumner Academy Orchestra. Tours of the site were available and Santa and Mrs. Claus were on hand for photos.
Some of the main attractions of the event, however, were cooking in the Grinters' kitchen. Wearing a traditional 19th-century dress and apron, Joy Orlich, assistant curator for the Grinter Place, whipped up batches of hot corn muffins and apple fritters for attendees to sample, baking the muffins and frying the fritters with a cast-iron oven and wood stove that was originally built in 1902. From the stovetop, she served cups of wassail — a traditional holiday drink made of a blend of apple and cranberry juices, honey, ginger, and orange and apple fruit slices.
"I never remember wassail tasting that good," said Sharon Bagwill, an attendee from Kansas City, Mo. "I've had it before at a number of places. This is the only time I've ever liked it."
Orlich said events like these, where the focus is on the past rather than the present, were all about education.
"To let others know about the history of Wyandotte County and to realize that preserving our past helps our future," Orlich said, noting that children, especially, would get a lot out of hands-on events where they could take part in activities.
Future events at Grinter Place will include a Jan. 28celebration in honor of Kansas Day that will include crafts and cupcakes. And Second Saturdays by the Grinter Stove is a monthly event during which attendees can enjoy hot lunch cooked on the wood stove and hear about local history. Call Grinter Place at 913-299-0373 for more details.