Bobcats battle back, shock Rock Bridge in
OT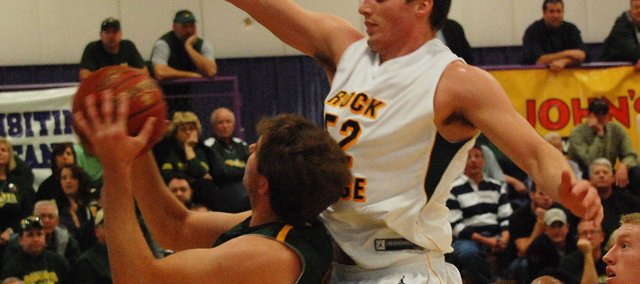 Kansas City, Mo. — Mike McBride didn't like the wide-eyed looks on his players' faces early in their Hy-Vee Shootout matchup with powerhouse Columbia (Mo.) Rock Bridge on Saturday at Avila University.
Photo Gallery
BLHS boys 67, Columbia (Mo.) Rock Bridge 60, OT
McBride, Basehor-Linwood's boys basketball coach, loved the way the Bobcats finished the game, however.
Trailing by 13 points late in the third quarter, BLHS unleashed a 25-6 run and took the lead late in regulation before winning 67-60 in overtime.
"I liked that we competed at the end," McBride said. "We didn't play anything like we're supposed to for three quarters, which doesn't make me very happy."
The Bobcats lacked their typical high energy level from the start. Even though they hung with Rock Bridge throughout the first half, they never found a rhythm. The offense lacked movement, and wide-open shots came after hesitation.
The Bobcats missed nine of their first 11 field goal attempts, and they trailed 9-4 early as their Big Three — Ryan Murphy, Colin Murphy and Ben Johnson — struggled from the floor.
We just had that look in our eye like we didn't know if we were supposed to be here, like we didn't know how good we are," McBride said of the nerves he suspected some of his players had during their first appearance in the Hy-Vee Shootout. "It kind of surprised me, but they're a good team too, so maybe that had something to do with it."
BLHS received strong defensive contributions off the bench from Tanner Garver, Zach McNabb, J.P. Downing, Ryan Shaffer and Caleb Hiss, and that helped keep the Bobcats close. In addition, Brad Waterman had an eight-point second quarter — his biggest shots coming on an 18-footer from the left baseline, another 18-footer that gave the Bobcats a 22-21 lead, and then a put-back at the buzzer that brought Basehor-Linwood within 25-24 at halftime.
"If Brad Waterman doesn't come to play in the first half, we don't win," McBride said. "That's what it comes down to."
For Waterman, his success was the result of playing with a clear mind.
"I just relaxed and didn't worry about missing a shot or making a mistake," he said, explaining his first-half stat line of eight points, five rebounds and an assist.
Missed free throws and soft defense early in the third quarter nearly cost the Bobcats the game. Rock Bridge went on a 17-5 run during the first five minutes while making seven of eight shots.
Leading 42-29, it looked like the Bruins had the game well in hand. That's when Basehor-Linwood finally began attacking the basket, however. In particular, Johnson went to work in the post and got Rock Bridge forwards Austin Ray and Leo Terzoupolous in foul trouble. Two free throws by Johnson cut the Rock Bridge lead to 11. Moments later, Downing forced Bruins guard Travis Jorgenson into a five-second violation. On the ensuing possession, Ryan Murphy muscled in a layup and got the Bobcats within single digits. With that, they had their confidence back and the comeback was under way.
"Once I saw the look in their eyes — the look that I'm used to — I knew we had a chance," McBride said.
BLHS scored on its first eight possessions of the fourth quarter, including three-point plays from Johnson and Ryan Murphy.
A layup by Colin Murphy with 3:43 to go put the Bobcats ahead 54-48.
Rock Bridge battled back and forced overtime with the game tied at 56-56.
A trey by Colin Murphy to open overtime, followed by a hook shot by Johnson had the Bobcats in full control. They hit six of eight free throw attempts down the stretch to ice the victory.
Nick Norton led Rock Bridge with 17 points, Ray had 14 and Josh Hayes added 10 as the Bruins — ranked No. 4 in Missouri in the Powerade poll — fell to 5-1.
Colin Murphy scored a game-high 24 points for the Bobcats, Ryan Murphy had 20, Johnson scored 13, Waterman had eight and Chase Younger added two.
Basehor-Linwood (3-0) next plays Wednesday at home against Topeka Hayden.