Fire Science program at
KCKCC

expanding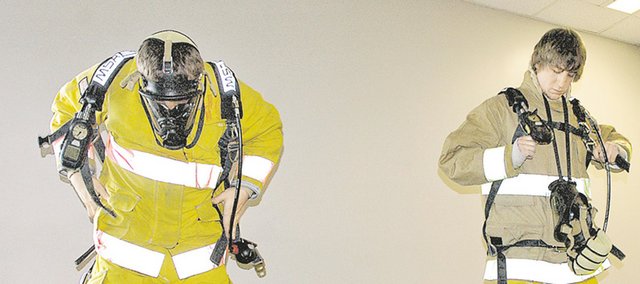 Kansas City Kansas Community College's Fire Science program is growing — student participation has doubled in the last year — and Bonner Springs resident Nancy Thomas couldn't be more pleased.
Thomas is an assistant professor in her second year as coordinator of the program, aiding the college's mission to grow the program and make it more relevant for area firefighters. By restructuring courses and consolidating the college's three Fire Science degree programs with national standards, the college this year has doubled from 53 to more than 100 students.
Thomas has taken an interesting path to get to the Fire Science program. She has her PhD in psychology, and for three years she taught psychology as an adjunct instructor at KCKCC.
But she says she always has been in the fire science field. For the first 10 years of her career, she was a firefighter paramedic for the Grandview, Mo., Fire Department, and she then spent 17 years investigating fires and working the arson canine program with the Kansas Fire Marshall's Office.
She said she got into psychology because she was interested in how the minds of the arsonists she was investigating worked.
"We needed to have a better understanding because that will help us do our jobs so much better," she said.
She got a masters degree in the field and was so interested, she continued on through her PhD. Now she teaches arson investigation classes within the Fire Science program and is able to add her knowledge of the psychology of arsonists to the courses.
Thomas said the expansion of the Fire Science program was the vision of the college's provost, Tamara Agha-Jaffar, and Ed Kremer, dean of math, science and computer technology. Previously, the college offered Fire Science associate's degrees of arts, science and applied science.
"Really there weren't very many students actually taking the arts and science, so it really made the most sense to offer up the degree that most students were taking anyway and not be confusing," she said.
Thomas said the college wanted to concentrate on skills most important for firefighters in the Midwest, so she put together an advisory board of area fire chiefs to determine the criteria considered most critical in a degree program.
"I said, 'OK, what do you guys want from us, what do you want to see, and what kind of firefighters do you want to come out of our training courses?'" she said.
Another focus was making sure the program offered educated training staff. The program includes adjunct instructors Patrick Dunn, Steve Inman, Jack Andrade, William McKeel and A.J. Clemons, four of whom have master's degrees.
"It is very difficult to find people in our profession that have master's degrees," Thomas said. "That's just really, really rare."
Another improvement for the program was new equipment, a remodeled classroom and refurbishing the Lustrom House, located on the south end of the campus, for a training facility.
"The house enables us to teach rescue training scenarios," Thomas said. "We are able to use inert smoke machines to teach how to go in and rescue. It's a great asset for our program because we can create situations that cannot be replicated in a classroom."
New equipment includes 10 new self-contained breathing apparatus packs made possible by a $56,000 Perkins grant. Students in the college's Technical Education Center also created new racks to hold the department's coats, pants, boots and helmets.
Now the program is a serious competitor with other area programs at Hutchinson, Johnson County, Blue River and Penn Valley community colleges.
Of the program's 100-plus students, about 30 are first-year students getting the training they need to be hired as a firefighter, while the rest are firefighters getting their associate's degree in order to earn a promotion. While many come from fire departments in Wyandotte and Johnson counties, Thomas said the program also is drawing students from Fort Leavenworth, Lawrence, Ottawa and even Pittsburg.