Upper Iowa inks Basehor-Linwood softball star Redmond
Pitching standout has led Bobcats to back-to-back Class 4A state tournaments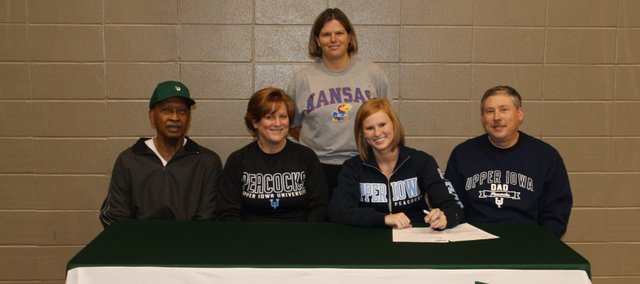 Brooke Redmond has delivered for the Basehor-Linwood softball team the last few seasons.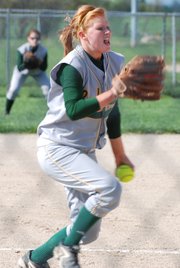 She has pitched the Bobcats to one state championship and multiple Kaw Valley League titles.
She has provided pivotal hits when the team needed them and been part of a group of players who have taken an established program to new levels of success.
In the process, Redmond has seen a lot of her childhood dreams come true through softball.
She started playing softball 14 years ago when it was just fun to throw the ball and swing a bat.
The latest dream came true earlier this month when Redmond signed a letter of intent to play softball at Upper Iowa University in Fayette, Iowa.
"It is almost like unreal for it to be decided," she said. "It has been a long journey. Playing for 14 years and after a long recruiting process, it is a weight off my back to have the signing done and know where I am going."
Redmond will pitch and play outfield for the Peacocks.
The Peacocks are getting a talented player, BLHS coach Susan Mayberry said.
"She's a natural leader, and I've respected her ability to be as tough as nails throughout her entire career," Mayberry said. "Her will to win is second to none.
"Pitchers in this game have to have a short memory. Brooke has that ability to rebound after giving up a hit or two, maybe even a run. She'll regroup and go come right after you. She'll find a way to beat you.  She'll will her team to win."
Mayberry said she really appreciates that attitude from Redmond.
"That kind of attitude, we've had in our program for several years," Mayberry said. "Through thick and thin, Brooke embraces everything that our program stands for."
Redmond said she is excited to attend Upper Iowa University. She felt comfortable with the coaches there and also liked the school's academic offering.
"I really liked everything about the college," she said. "I liked the coaches. I had offers from other schools, but they had the major I wanted to go into and the coaching staff really seemed nice."
She chose Upper Iowa over Columbia College and Fort Hays State University.
"It was hard to turn others down, but they had what I needed for my future goals," Redmond said. "In reality it was hard, but I know I made the right decision."
Mayberry also said Redmond is the type of athlete coaches are looking for because she is a student first and has a high level of commitment.
"She's the perfect model of who a coach is looking for," she said. "I wish nothing but the best for her. She and I both know that we have another season approaching, and we're going to have as much fun as we possibly can.  Brooke creates an atmosphere for success." 
Upper Iowa is also a good fit academically. Redmond wants to be a physical therapist and plans to study exercise science at the university.
"I want to go into physical therapy after that," Redmond said. "I could have studied exercise sports or kinesiology at other places, but the colleges I was looking at didn't have a good major to get into a physical therapy program after I graduated."
Redmond said she is looking forward to her senior season at BLHS.
"I am excited for this season," she said. "I am ready to have softball get here. It will be the last experience with girls I've played with for four years. I am going on to some big things, but I am going to miss what I have been with. I am ready to get away and see something new."
Mayberry said Redmond has a bright future. 
"Brooke felt UIU was a great fit for her, and I couldn't be happier," Mayberry said. "Like Hannah Tush (who signed to play at Eastern New Mexico), Brooke will also do great at the collegiate level.  Those two kids are wired to succeed.  Those two kids along with our other two seniors have one more high school season to play.  I think I have a pretty good idea of what their intentions are for next spring.  We tend to think alike."