Basehor Intermediate School students bring warm Christmas gifts for children at
KU

Hospital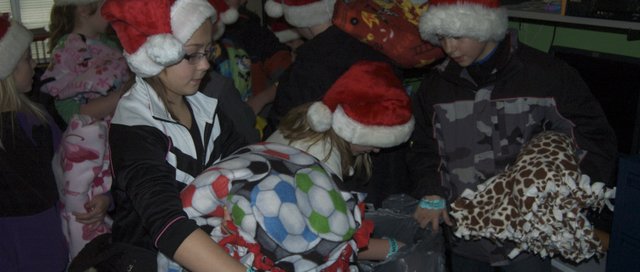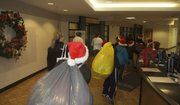 BIS student council members
Basehor Intermediate School student council members, who took blankets to KU Hospital:
Fourth grade
Tyler Biggs
Amanda Johnson
Nick Lutgen
Taylor Newlin
Colin O'Donnell
Taylor Theno
Fifth grade
Gracie Acker
Emma Armstrong
McKenzie Jones
Gracie Kendrick
Joe Phillips
Harrison York
Nick Lutgen wore a Santa hat as he walked through the halls of Kansas University Hospital, and the bulging bag of gifts slung over his shoulder, almost as big as he was, made him look even more the part.
Nick, a fourth-grader at Basehor Intermediate School, was just one of 12 Santas on Tuesday, though, when BIS student council members made a trip to KU Hospital to drop off handmade blankets at the hospital's pediatric unit, in the hopes they would brighten the holiday season for any children staying there this month.
The 12 students, who each brought one blanket, were there because they'd wanted to do something kind during the Christmas season, said Gracie Kendrick, a fifth-grader at BIS.
"Student council is supposed to be responsibilities, citizenship and all kinds of stuff," Gracie said. "So we just thought it would be thoughtful, bringing blankets to the little kids."
Jessica Schultz, a third-grade teacher at BIS and a student council sponsor, said the group had a new goal to perform two community service projects each school year.
"We've never done something this big, where we've been able to go out and help other people," Schultz said.
Schultz bought the materials for the blankets using funds from last year's edition of the student council's annual candy cane sale, and students stayed after school one day last week to tie sheets of fabric together to form the gifts, with help from teachers who handled the work that required scissors.
Andrea Smith, a child life specialist at the hospital, led the students to the pediatric unit, where a group of nurses and other staff members accepted the blankets, which were decorated with bright images of sports gear, butterflies, animal prints and more.
All the children staying in the unit Tuesday were in isolation under doctors' orders, so the students weren't able to give them the blankets in person. About 10 children were staying in the unit on Tuesday, Smith told the students.
She told the visitors that their blankets would help give patients something positive to remember their hospital stay by, and the unit's staff likes to place a gift blanket on each child's bed before he or she arrives, if possible.
"It's not hospital — it's soft, and they get to snuggle with it, and they get to take it home, and it's theirs," Smith said afterward.
Being stuck in the hospital while their friends and family are having holiday fun can be especially tough for young children, she said.
"Even just missing the Christmas party at school sometimes is a really big deal for kids," Smith said.
Even though they'd hoped to be able to visit the unit's patients in person, Schultz said, the BIS students did not complain and were all smiles during their visit.
"I think it was just a lot of fun for them," Schultz said. "They like the giving."
Gracie said she liked seeing the hospital, and she hoped their gifts would be meaningful.
"I hope they will just take it home and keep warm and stuff, and remember they got well at the hospital," Gracie said.