3rd runner up calls Miss Rodeo America pageant a 'once-in-a-lifetime experience'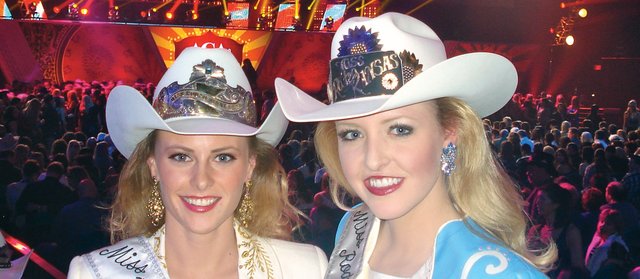 The crown and title of Miss Rodeo America was the ultimate goal.
But while Alyssa Morrison of Bonner Springs, who holds the title of Miss Rodeo Kansas 2011, only came close, she says she is far from disappointed.
"It was just a once-in-a-lifetime experience," Morrison said of the Miss Rodeo America pageant that took place Dec. 3-10 in Las Vegas. "And I am so glad that I had the opportunity to take part in a dream that I've had since I was a little girl. And I was looking forward to it so much, the week … far exceeded my expectations; what I could have imagined."
Morrison may not have left Las Vegas with a national title in hand, but she certainly didn't go home empty handed. She came in third runner up in the rigorous competition that featured 27 other Miss Rodeo state title holders — including Mackenzie Carr of Oregon, who earned the Miss Rodeo America 2012 title.
Morrison also came in first place in the first challenge of the pageant, a vintage outfit competition. She won first place in another challenge, as well — the written test, where she had to demonstrate her equine knowledge.
"So that was neat to know that all of my studying and preparation paid off," Morrison, who had studied extensively prior to the competition, said.
For these wins, and also for placing in both the top 10 and the top five of the Miss Rodeo America contestants, Morrison earned a hefty scholarship in the amount of $3,500. She is currently a registered nurse working at Kansas University Hospital in Kansas City, Kan., but she says she plans to eventually go to graduate school and will use the funds toward that end.
Morrison said there were a lot of exciting aspects of her time in Las Vegas outside of the pageant. She and her fellow contestants got to stay at the MGM Grand Hotel & Casino on the main strip, where many of the pageant events took place. They also got to attend the American Country Music Awards, which were staged Dec. 7 at the MGM Grand.
"So that was pretty neat, to go see an awards show like that," Morrison recalled.
Other nonpageant events, Morrison said, included an evening performance of the Wrangler National Finals Rodeo and a dinner and live jousting performance at the Excalibur Hotel Casino.
Despite the heavy competition, Morrison said she never felt like it was her against the world. Instead, she said, the week was more of a bonding experience with 26 good friends.
"… We had gotten to know each other during our year of state queens … but being able to finish our year with that week, it's an intense week, but it's a sisterhood," Morrison said. "And it was really an incredible experience to be able to through that experience with some of the best friends you'll ever have. Rodeo is all about lifting your competitor up and helping each other, and so it's not the typical experience of what you would think … you help each other as much as we can."
She says she's at peace with her standings after the competition, and is leaving the rest up to God.
"I had this sense of peace with me the entire week and I knew that I was doing my absolute best and if it was God's plan for me, I would make a wonderful Miss Rodeo America," Morrison said. "But if it wasn't his plan for me, he had something else in store for me, and so that's where I'm at. I'm excited to see what his plan is. He's taken care of me my entire life, and there's no reason he would forget about me now."