Biggest Basehor stories of 2011: Loughry firing, recalls top readers' list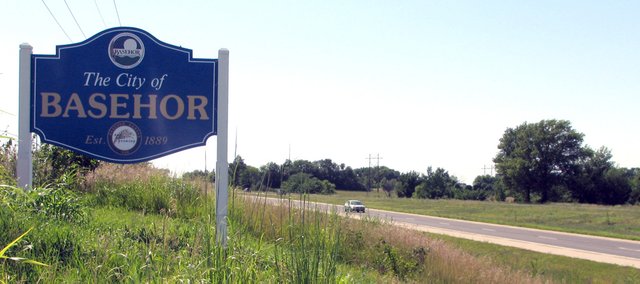 On Sept. 19, 2011, a Basehor bombshell dropped.
That surprise blast and its aftershocks have dominated the pages of the Sentinel since. And in the eyes of readers of the Sentinel and basehorinfo.com, two intertwined stories that sprung from that shock stood above the rest of the city's news in 2011.
In an online Sentinel poll to determine the top Basehor stories of the year, the top finishers in a tie were the surprise firing of former city administrator Mark Loughry on Sept. 19 and the efforts by residents to recall three of the city's elected officials that followed.
Voters in the poll, posted last week, picked their top five stories of the year out of 10 nominated by the Sentinel's staff.
Though the turmoil at Basehor City Hall topped readers' lists, Basehor's growth and development was a major story as well. The other three stories in the readers' top five reflected that growth: the city council's decision to accept a $1 million state grant for a new road, the impending opening of an Orscheln Farm & Home store in the former Wolf Creek Marketplace building and the release of 2010 Census data that showed Basehor's population had doubled in a span of 10 years.
Here are the five stories that most shaped life in Basehor in 2011, according to you, our readers:
1. City administrator Mark Loughry fired in surprise vote; recall efforts target mayor, city council members (tie)
At its Sept. 19 meeting, with no item related to his appointment on the agenda, the Basehor City Council fired city administrator Mark Loughry after two years on the job, in a split vote.
City Council President Dennis Mertz made the motion to fire Loughry at the end of the meeting — from which Loughry was absent while on vacation with his family — and members Fred Box and Iris Dysart joined him in voting for the administrator's ouster.
The surprise vote prompted council member David Breuer, who along with Travis Miles voted against the firing, to throw his agenda packet across the room and storm out of city hall.
Mertz, Box and Dysart said almost nothing about why they made their decision, saying they couldn't comment on a personnel issue. Mayor Terry Hill and the other two council members said later that week that they were shocked and did not understand why Loughry had been fired.
Later in the fall, though, the Sentinel reported on accusations against Loughry that had first surfaced in an April 2010 letter from former city attorney Patrick Reavey to council members. The allegations included that Hill and Loughry had improperly revised the administrator's contract to allow for additional health benefits for his family and that Loughry had misreported the wages he'd received from his previous employer, the city of Hays.
As early as August, Mertz had contacted law enforcement offices alleging that Loughry had committed a crime, the Sentinel also reported. Hill said council members had agreed when they hired Loughry in 2009 that he could receive full payment of health insurance premiums for his family, but Mertz and two other members at that time said that wasn't true.
Loughry and Hill denied any charges of wrongdoing or impropriety, in comments to the Sentinel and a 2010 email message from Loughry in response to Reavey's accusations.
Since the firing, the council has voted to void a severance check to Loughry for about $50,000, then approved a smaller $34,000 payment. Police chief Lloyd Martley has taken over as interim city administrator, and Loughry this month was hired to be the finance director for the city of Raytown, Mo. The city has not yet begun a search for a new city administrator.
Also since Loughry's firing, in a story that will spill into 2012, three of the city's elected officials have been put at risk of losing their positions at city hall.
In October, Leavenworth County approved petitions for the recall of Mertz and Dysart, accusing them of violating the Kansas Open Meetings Act by discussing Loughry's firing outside of a council meeting. And in November, the county approved another petition for Hill's recall, which accused him of misuse of public funds connected with purchases he'd made with a city credit card, amending Loughry's contract to allow for additional insurance benefits and approving Loughry's $50,000 severance check.
All three officials denied the charges against them, with Dysart saying she'd been careful not to violate open-meetings rules, Mertz saying in a formal statement that he'd had several lawful discussions about policy violations by city staff before Loughry's firing, and Hill saying his actions concerning Loughry had been authorized by the council and by the administrator's contract.
All three petitions attracted enough signatures from Basehor voters to prompt recall elections, though, and this month Leavenworth County announced plans for a Feb. 28 election in which Mertz and Dysart will be up for recall. Hill has challenged his recall petition in court, and a judge will rule in January on whether the county can proceed with an election. If the judge allows the recall effort to go on, Hill will appear on the February ballot, as well.
3. Basehor accepts $1 million state grant to extend Wolf Creek Parkway
The Basehor City Council placed its faith in future development along U.S. Highway 24-40 at its June 20 meeting. The council agreed by a split vote to accept a $1 million state grant offer to construct a new road just north of the highway.
The city will pick up the rest of the cost of the extension of Wolf Creek Parkway from 155th Street to 158th Street, which city staff members estimate to be about $260,000.
The vote by the council was 3-2 to approve a grant agreement with KDOT. Members Fred Box and Iris Dysart opposed the agreement.
The decision came after a number of leaders and residents spoke for and against the project at the beginning of the council's meeting. Supporters of the new road said the city should prepare for future growth along the highway by improving traffic and creating access to more potential business sites, and detractors said the city should not extend Wolf Creek Parkway when no businesses currently exist along the existing portion.
Earlier in June, Mayor Terry Hill spoke in favor of the project.
"It's, for me, a once-in-a-lifetime opportunity," Hill said, "to have that size of a grant come into the city from the state to build a road to attract businesses to our little community."
But Dysart, at the June 20 meeting, said the city's resources could be better used on other road projects, especially when development has yet to occur along the portion of Wolf Creek Parkway that already exists, east of 155th St.
"Why would we open up another one across the road when we can't even do anything with the one that we opened?" Dysart said.
KDOT offered the $1 million grant to Basehor in February as part of its Corridor Management Program, through which it funds road construction projects designed to improve traffic along highway corridors. The extension of Wolf Creek Parkway would serve as a frontage road, designed to draw drivers away from the highway and thin out traffic.
4. Orscheln Farm & Home plans store in former grocery building
Late this year, the city confirmed that an anchor retailer would return to the existing portion of Wolf Creek Parkway, when Orscheln Farm & Home in December confirmed plans to open a store in the former Wolf Creek Marketplace building in Basehor in spring 2012.
The Orscheln store will open just more than two years after the grocery store in the same location closed in late February 2010. The roughly 43,000-square-foot store, located on Wolf Creek Parkway near 155th Street and U.S. Highway 24-40, will provide about 20 jobs, according to a release from Orscheln on Friday.
Among the items sold by the store will be lawn and garden products, farm supplies, pet food, hardware, electrical and automotive equipment, toys, housewares and clothing, according to the release.
Rick Powers, chief financial officer of Orscheln Farm & Home, said the company completed the purchase of the building from St. Louis-based Enterprise Bank & Trust on Dec. 9, about three months after the company announced a conditional agreement to buy the property.
Basehor Mayor Terry Hill said Friday he "couldn't be happier" about the news that Orscheln was moving forward, and filling the empty former grocery store was a vital first step to further development along Wolf Creek Parkway.
"Expect it to be a catalyst for additional growth," Hill said.
The new store will also provide jobs "that we so dearly need," said City Council President Dennis Mertz, in addition to providing residents a new shopping option and giving the city additional sales tax revenue.
The city council agreed in September to offer Orscheln a 95 percent rebate on property taxes on the building through 2019. Orscheln had been in negotiations to buy the Wolf Creek building since at least spring 2011.
The Wolf Creek Marketplace grocery store closed in February 2010, just more than seven months after it opened.
5. Census numbers show Basehor population doubled from 2000 to 2010
The final 2011 story chosen by Sentinel readers actually concerned the growth that Basehor experienced in the decade preceding this year.
U.S. Census Bureau data from the 2010 Census, released in March, showed that the city of Basehor's population more than doubled from 2000 to 2010, making it the fastest-growing city in Leavenworth County during that period.
The city's population grew from 2,238 at the time of the 2000 Census to 4,613 in 2010 — an increase of 2,375 or 106 percent. That growth was tops among the six cities within Leavenworth County, both by percentage and by total residents added.
The growth in Basehor accounted for nearly a third of the total population growth in Leavenworth County during those 10 years. The county grew from 68,691 residents in 2000 to 76,227 in 2010, an increase of about 10 percent.
Then-city administrator Mark Loughry predicted that rapid growth would continue in Basehor and other developing communities on the edges of the Kansas City metropolitan area, especially if the housing market picks up after the slowdown of the past few years.
"I think we'll see growth really accelerate when the economy finally turns around," Loughry said.
If things do turn around, and more jobs arrive at Village West in Kansas City, Kan., and Fort Leavenworth, Basehor's population could even hit the 10,000 mark by 2020, he said.