Gesture of kindness was most unforgettable story this year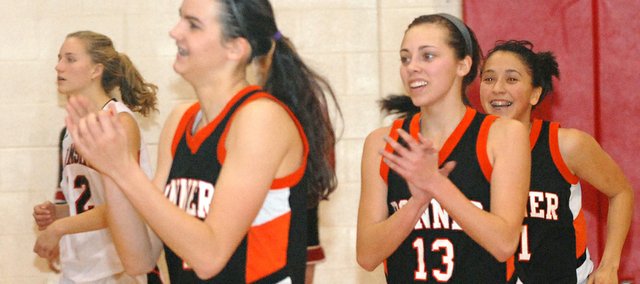 There has been plenty to celebrate on the local sports scene in 2011, from multiple state championships by the Basehor-Linwood High School track team to the resurrection of the basketball programs at Bonner Springs High School, the BLHS football team's 10-win season and two wrestling state champions at BSHS.
Still, for all of the great accomplishments of our local athletes, my favorite sports story in 2011 didn't involve winning or losing. Rather than going for the gold, this story was about giving the gold away, so to speak.
The Basehor-Linwood and Bonner Springs High School cross country teams coming together to support BSHS senior Scintila Capalla in her battle with cancer is one of the most unforgettable moments I've had the opportunity to see in more than a decade of sportswriting.
I've seen athletes win in beat-the-odds fashion, underdogs have stunned favorites, and seniors have gone out on top.
Two years ago I watched the Maranatha Academy girls 3,200-meter relay team give away its state championship medals to an opponent who ran faster but was disqualified after having a runner collapse and pass out on the track. At the time, I figured I would never see a story come close to touching that one in the "emotionally moving" category, but this one did.
We put so much emphasis on winning and losing in sports. As fans, we often try to assess blame if something goes wrong — it's the refs' fault, or coach should play "my kid" more — when, in the grand scheme of things, none of it's that important.
On Sept. 17, however, the Basehor-Linwood and Bonner Springs cross country programs absolutely got it right.
Capalla, a tireless worker throughout her running career at Bonner Springs and expected to be the Braves' top returning runner this fall — developed a six-centimeter tumor in her right knee last spring. In mid-July she was diagnosed with osteosarcoma. With that, her senior season was done before it ever started, and she's spent the remainder of the year enduring numerous chemotherapy treatments while trying to keep up her studies at school.
Without surveying every runner in the area, I feel confident I can speak for them in saying Capalla is one of those runners who is a friend to all. Whether at cross country or track meets, she could always be seen chatting with her fellow runners with a smile on her face, regardless of what school's jersey they were wearing.
She's softspoken and kind, never seeking the spotlight but quietly earning it through her hard work.
Before the Bonner Springs Invitational on Sept. 17, Basehor-Linwood cross country coach Jeff Venema learned of Capalla's cancer battle. The Bobcats — a friendly rival at a neighboring school — organized a T-shirt tribute to take place at the Braves' home meet and let Capalla know that even though she couldn't run, her runner friends — at Bonner Springs and beyond — loved her, supported her and missed her.
"Distance runners protect their own," Venema said at the time.
In total, 480 runners from numerous schools wore T-shirts bearing the message "We love you Scintila" at the Braves' home meet. The shirts continued to appear at meets throughout the season, and I am certain we will see runners wearing them at track meets in the spring.
There won't be a state championship banner to commemorate what happened on Sept. 17, and that's OK. The goodwill gesture shown by the cross country community for one of their own — Scintila Capalla — was powerful enough that it will remembered for years to come.