Sportsmanship, championships among lasting images from 2011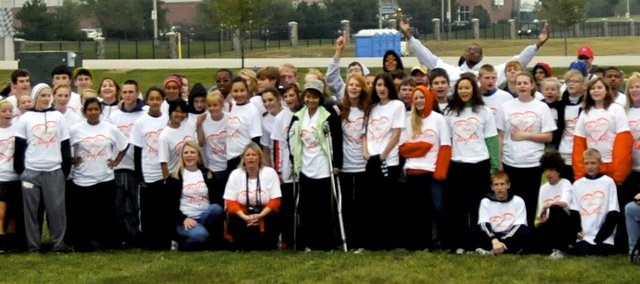 What a remarkable year 2011 was for Bonner Springs and Basehor-Linwood sports.
State championships were celebrated, and sports teams took serious steps forward. School records fell and history was made.
It's hard to weigh one story as being bigger than another because the accomplishments were so great, but we have compiled a list of the top 10 local sports stories for 2011. They are listed in no particular order, so decide for yourself which story was the biggest to you.
RUNNERS UNITE AROUND CAPALLA
When Bonner Springs senior cross country runner Scintila Capalla was diagnosed with osteosarcoma — a form of bone cancer — in mid-July, she knew her high school sports career was finished.
Her fellow runners made sure she wasn't forgotten, however.
The Basehor-Linwood cross country program organized a T-shirt tribute for Capalla at Bonner Springs' home meet Sept. 17.
BLHS coach Jeff Venema coordinated with BSHS girls cross country coach Rob Marriott to have Capalla come to the meet to fire the starting gun for the varsity girls' race. When she arrived, Capalla was greeted by the sight of 480 people — from BSHS, BLHS and numerous other schools — wearing T-shirts bearing the slogan "We love you Scintila."
Cancer may have taken away her ability to run for the moment, but it was clear her presence still loomed large on the cross country scene.
"I was very surprised," Capalla said of the gesture. "But it was a good surprise. I just loved it."
For more about this story, see a related sports column in this week's paper.
SEATON, BLACKWELL ARE CHAMPS
One was healthy and expected to reach the top; the other fought through pain all season, and that made the glory all the sweeter.
Bonner Springs wrestlers Jonathan Blackwell and Caleb Seaton both captured Class 4A wrestling state championships in 2011.
Blackwell reached the Class 5A state finals as a freshman, and with his sophomore campaign spent in 4A he had his eyes on a title. Blackwell was one of the favorites entering the state tournament, and he backed up the seeding by taking early control of all of his state matches until earning ha hard-fought victory in the finals to cap a 42-5 season with a state title at 135 pounds.
Meanwhile, Seaton had a much tougher path to the top. After three straight fourth-place finishes at state, Seaton hoped to end his senior year as a state champion. A severely damaged right shoulder made his final season a grueling one, but ultimately he finished where he wanted to.
An overtime victory in the state semifinals earned Seaton his shot at a title. Then, he turned a two-point deficit into a 6-4 victory in the final 10.6 seconds of the 125-pound state finals.
BOBCATS BLAZE TO TITLES
As recently as a year ago, Basehor-Linwood wasn't much of a threat in the 400-meter relay. In 2011, however, the Bobcats went from average to sensational during a matter of weeks and finished as the fastest team in Class 4A.
The squad of seniors Daniel Prioleau and Miles Brown and sophomores Lane Young and Trey Kinchloe repeatedly smashed the school record. At state, they set a new BLHS record with their preliminary time of 42.94 seconds. Then, in the finals they crushed the field and won the state championship in 43.15 — .35 faster than runner-up Buhler.
"Our four guys just had great fluidity when it came to passing the baton," BLHS coach Steve Hopkins said. "Miles ate up the curve the last four or five strides (on the third leg), and Daniel was at full speed when he got it."
As if the relay state title wasn't great enough for BLHS, junior Dakkota Edmonds followed suit with a state championship performance in the 200.
"I really didn't know how it was going to go," said Edmonds, who also finished second in the 100. "But I was really ready. I was wanting so badly to at least just get one gold medal this year."
BLHS FOOTBALL GOES 10-1
The phrase "best season in school history" has been thrown around a lot in recent years for the Basehor-Linwood football team, and each time it has been accurate.
The phrase rang true again in 2011 as the Bobcats had their first 10-win season in school history and their first undefeated regular season. They also won their third straight Kaw Valley League championship and shattered numerous program records on the offensive side of the ball.
In the process, Basehor-Linwood senior quarterback Colin Murphy earned recognition as one of four finalists for the Fontana Award which goes to the top small-class player in the Kansas City Metro area.
Ultimately, Basehor-Linwood's season ended in the second round of the Class 4A state playoffs with a loss to eventual runner-up Eudora.
BLHS GIRLS TAKE THIRD
This was supposed to be the year for the Basehor-Linwood girls basketball team to make a run at the Class 4A state tournament.
The Bobcats returned most of their lineup from a team that lost in the first round the year before, and that experience paid off.
After state tournament trips in 2008 and 2010 that produced no victories, BLHS earned a first-round victory at state, then narrowly lost in the semifinals before bouncing back to beat Ottawa, 47-36, and claim third place.
The Bobcats finished the season with a 20-5 record, and the third-place trophy was the first piece of state tournament hardware for girls basketball since Basehor and Linwood high schools consolidated in 1988. The last girls basketball state trophy to return to the area came when Basehor High School placed third in 1984.
Five seniors — Shelby Equels, Amanda O'Bryan, Megan Bergstrom, Courtney Poe and Macyn Sanders — led the Bobcats back to the podium in their final season.
BOBCATS STILL MOST POWERFUL
For the fourth straight year, the Basehor-Linwood girls powerlifting team won the Kansas state championship, and for the second year in a row the BLHS boys were state champs.
Winning state titles has become an annual tradition for the Basehor-Linwood lifters, and coach Ross Schwisow said it all boils down to kids being motivated to work hard.
In addition to the summer and after-school program, Schwisow teaches strength and conditioning as part of the school's curriculum. His classroom and the powerlifting team include numerous students who don't play other sports but simply want to live a healthier lifestyle.
Perhaps more impressive than the Bobcats' reign of dominance in the lifting world, however, is the fact that other schools in the area are now taking a hard look at Basehor-Linwood's strength and conditioning program and hoping to implement it at their own schools.
In early December, teachers from Joplin (Mo.) High School visited BLHS to watch the strength and conditioning program and take notes on how they can modify the Joplin program to better match what Basehor-Linwood does.
"We have an idea here that seems to work for us, and I think a lot of people want to see how to apply it," Schwisow said.
BSHS BASKETBALL SURGES
After multiple losing seasons in a row, 2011 was a resurgent year for the Bonner Springs boys and girls basketball programs.
Former coach Andy Price and his staff returned to the sideline to lead the boys' program, and the Braves surged to a 15-6 campaign and a trip to the Class 4A substate semifinals.
In addition, girls coach Clay Oakes — after years of establishing a foundation — saw his team make a major breakthrough as it went from six wins the year before to a 15-6 campaign and a spot in the substate semifinals.
A common theme for both programs was youth. Neither team had many seniors — the girls had just one in Erica Smith — so the foundation was established for both programs to be even better in 2012.
BRAVES THRIVE UNDER ASLIN
Lucas Aslin wasn't sure what to expect in his first year as head football coach at Bonner Springs.
Aslin brought energy and enthusiasm to the sideline, and he demanded more of the Braves in the weight room, but he had no idea how it all would translate to the field.
It turned out just fine.
The Braves stunned Topeka Seaman in the season-opener, then endured a three-game losing skid before rattling off five straight victories. They finished the season tied for third in the Kaw Valley League, and they won a Class 5A district championship.
Ultimately, the season ended with a loss to powerhouse Gardner-Edgerton in the state playoffs, but Aslin said he was pleased overall with his squad's 6-4 record.
"I think it was a good year," Aslin said. "We set a standard and did a lot of good things, but it all depends on how you want to define success. We won more games than we lost, so that was successful. We got better as the year went on, so that was a good thing, but we didn't finish the last game of the year like we wanted to, so that leaves a bitter taste in my mouth."
BASEHOR-LINWOOD BASEBALL GOES TO STATE
Normally, a 12-12 season in baseball would be considered average.
Not for Basehor-Linwood in 2011. The Bobcats struggled out of the gates, but they finished strong under first-year coach Brian Lohafer.
They were the team who finally knocked powerhouse Bishop Ward out of the postseason thanks to a 9-7 victory in the Class 4A substate finals. That victory came on the heels of an extra-innings victory against Tonganoxie in the semifinals.
"I have had a lot of people come and congratulate me that I have never seen before," Lohafer said. "These are people who have been here a lot longer than I have and had Bishop Ward beat them. It hasn't affected me as much as the community and as much as players who have a history with older brothers and stuff like that."
Once at state, the Bobcats nearly did more damage. They rallied twice against Baxter Springs but ultimately lost 7-6 in the first round of the state tournament.
BLHS SOFTBALL RETURNS TO STATE
So much for a rebuilding year.
Graduation took its toll on the Basehor-Linwood softball team after it won the 2010 Class 4A state championship. Rather than letting youth serve as an excuse, however, coach Susan Mayberry's squad used youth as a reason to be excited.
Every game was a chance to watch young players grow. Every practice was an opportunity for upperclassmen to lead. A largely new lineup gave this Bobcats squad a chance to craft its own identity rather than constantly living in the shadow of the 2010 team.
The 2011 season turned out awfully well, too. The Bobcats put together a 16-8 record, and they battled to a regional championship and a return trip to the state tournament. Once there, however, their season ran out of steam as they lost to Girard, 2-0.
"It was a whole new team; a whole different makeup," Mayberry said. "I feel like as a coaching staff, we had to do a lot of thinking, putting kids in different positions to get optimum performance. I think going to state in back-to-back years is great. Hopefully they understand how hard it is and don't think it's easy. I think if we can stay healthy next year that we can make a run."
Shelby Pierce was the only senior of the Bobcats' roster, meaning that what turned out to be a reloading year in 2011 could give Basehor-Linwood a veteran foundation entering 2012.