Snowy owls head south in search of food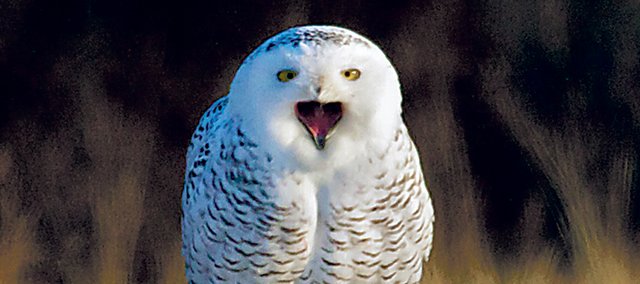 While the lack of snow on the ground may have put a damper on the holiday season, it's something of a boon for those trying to spot a rare sight around these parts.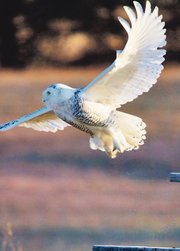 Snowy owls are large birds, about 2 feet tall with a wingspan that can reach up to nearly 5 feet long. And a lack of food in their natural tundra habitat is driving them south to Kansas and Missouri.
Mark Robbins, a Kansas University ornithologist, is hoping that if people spot an owl they'll take pictures and send them to him at mrobbins@ku.edu. He's particularly interested in getting a glimpse of the birds from the back, especially the area near the nape of the neck and tail. He's trying to use the coloring and banding present to determine the age and sex of the birds found here.
The birds are here, he said, because of a natural cycle in their food supply. The owls typically eat a type of rodent called a lemming, or vole. An unusually large number of lemmings led to an unusually large number of owls reproducing. This led to the situation of today, with fewer lemmings, and owls forced to head south to find food.
The birds aren't typically used to humans being around, which can be good and bad.
"You can usually walk right up to them and get some pretty good photos," Robbins said.
But that also can put the birds in danger.
"A certain percentage of these birds are never going to make it back," he said.
Some have died from being hit on roads, while others are dying of starvation. Robbins said if people find a dead owl, they should contact their local conservation agent.
Robbins said he's received about 40 emails reporting sightings with photos. He guessed between 10 to 15 birds had been spotted in Kansas and 10 to 12 in Missouri. Three snowy owls were seen in one spot near Smithville Lake in Clay County, Mo. Another sighting was about two hours from Lawrence in Nemaha County, Kan., just south of the Nebraska border.
This explosion of snowy owl populations happens every few years or so, said Chuck Otte, president of the Kansas ornithological society. Otte, an agricultural extension agent in Junction City, said Kansas last saw the owls around 2005-06, and again in 2001-02. This time around, though, he guessed they were attracting a little more attention because people are just more connected.
"I've got the numbers of a half-dozen bird watchers in my cell phone," he said.
If someone spots an owl, they can send an email from the site. And the relatively new email list distributes information rapidly to a larger number of people.
The developments in digital photography also make it easier to share photos.
The birds are easier to spot for several reasons, Otte said. They're white, first off, meaning they blend well into their natural habitat, but not the Kansas plains. And, unlike many owls, they're active in the daytime. They don't typically roost in trees, and can be found sitting on fence posts, on the ground or, occasionally, on a telephone pole.
People are fascinated by owls, Otte said. He gave a talk recently in Topeka about owls and it drew more than 50 people. And these are bigger than usual, and beautiful, he said.
"I think there's also a little bit of the Harry Potter thing," Otte said.
It's been fun for birders like Wichita resident Paul Griffin to track them down. He saw an email on the list, and raced out to the Quivira National Wildlife Refuge west of Hutchinson. He found some, and was able to take some good photos.
"A birdwatcher, a person, can go a lifetime and never see a snowy owl in this part of the country," he said.
Otte's keeping his eyes open, too.
"There's an awful lot of white, plastic trash bags in the country," he said.
This story was first published in the Lawrence Journal-World, a sister paper of The Dispatch.