Basehor Community Library director plans to retire after nearly 26 years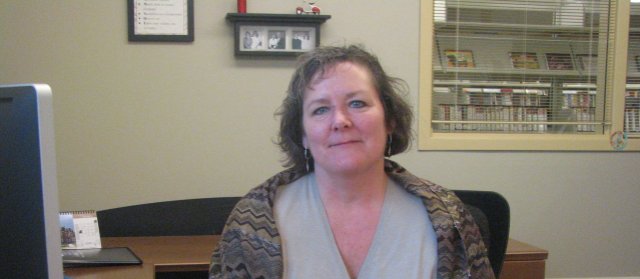 Carla Kaiser will leave the only job she's ever had in a few months.
And the Basehor Community Library will lose the only director it's ever had.
As the library has grown from an idea into a small storefront and then into its expansive new building, as its checkout system has evolved from a card catalogue into new radio-frequency identification technology, and as its users have multiplied from a few bookworms to people of all ages seeking all types of programs, Kaiser has been there to lead the way.
She announced this past week that she would retire from the library director position this spring, once a new director can come aboard. Now that her ultimate vision for the library — the new building, finished in 2008 — has come to fruition, she's ready to hand over the reins to someone else, she said.
"For the longest time, getting this new building has been the goal on the horizon," Kaiser said.
Though she has had the same title since the spring of 1985, she said, no year has been the same as the one before. A growing community, changing technology and increasing support have ensured that.
"It was never the same job, really," Kaiser said.
Kaiser became the library's director as soon as it had the funding to hire a staff member, after it gained tax support through a ballot issue in April 1985. The library opened its doors in March of that year.
At the time she began volunteering for the group that would eventually found the library, in 1984, she was staying home with her children and babysitting. She had no training or experience working in a library, but she had strong, fond memories of the library housed in a small stone building in Kansas City, Kan., where she would wander the stacks to find books to take home as a child.
So when the library's first board of directors asked her to be the director, she jumped at the chance.
"I didn't know that I didn't know how to run a library," Kaiser said.
But she learned quickly, by taking classes, going to workshops and asking for help from other library directors. Since then, she has provided similar assistance and mentoring for other rookie library directors in the state.
"Librarians are a neat bunch," she said. "They share."
Jenne Laytham started working with Kaiser at the library in 1996 on a part-time basis, back when Kaiser was the only full-time employee and the library still closed for lunch from noon to 1 p.m. every day. Laytham had worked previously in the banking industry and knew little about the library field, but Kaiser passed on the same information and training she'd received when she started.
Now Laytham is the library's assistant director, one of 14 full- or part-time staff members, because of the chances Kaiser gave her to grow, she said.
"She nurtures everybody that comes in," Laytham said. "She's very accepting. But at the same time, she has very high standards and high expectations."
Vickey Long, the library's children's services librarian, said she'd gotten similar encouragement and guidance from Kaiser during her 13-plus years working at the library.
"She's always been innovative, and pulling us along," Long said.
Laytham said she felt like she'd be losing a friend when Kaiser steps down, even though she'll still be around town and visit the library.
"To me, this library is Carla," Laytham said.
When Kaiser experienced some difficult times in her personal life early in the 2000s — she went through a divorce, followed by the death of her son in an auto accident — her close-knit "family" of library co-workers helped her pull through it, she said.
And they were there with her on her happiest, most fulfilling day on the job, when the new building opened in April 2008. It was the end of a years-long fight to build the new facility, including one failed bond issue and one successful one.
"We had people that had tears come to their eyes when they walked in the door and looked around," Kaiser said.
Laytham said Kaiser's determination was vital to the effort to construct the new building.
"I don't think many people would have gotten this library for us," she said.
Kaiser has grown from an inexperienced newcomer into a leader in the field, being named to a Library of Congress advisory panel and serving as president of the Kansas Library Association for a year.
She said she decided to step down when she realized she had checked off many of her professional goals, but she had things she wanted to accomplish in her personal life — not to mention she's watched her husband live the retired life for more than a year.
"We're sitting in the morning having coffee, and I'm the one who has to leave and go to work," she said.
She plans to spend time with her grandchildren, who range from ages 1 to 7, travel with her husband and perhaps advocate for a new system of walking and biking trails in Basehor.
She'll step down when the library's board of directors is able to bring on her replacement, probably in mid-April, she said.
"I feel like I've accomplished what I was hoping to," Kaiser said.
Her departure will be tough for the library and its workers, Laytham said, but it should be able to continue its course of progress under a new director.
"I think we would want to make her proud of this library going into the future, too," Laytham said, "so we will."