Former Basehor-Linwood High School janitor faces theft charges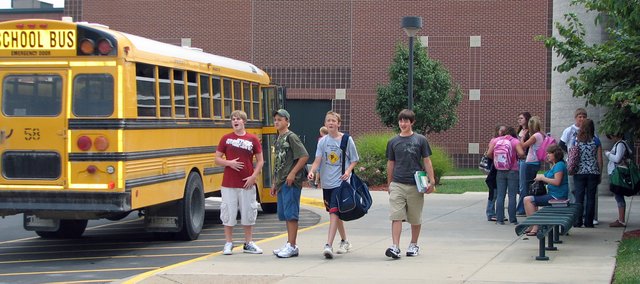 A former Basehor-Linwood High School janitor was charged this past week with five counts of theft after a Basehor Police Department investigation led to the recovery of items stolen from the school as well as from students and teachers.
John Henry Bullock Jr., a 37-year-old Basehor resident, faces one count of felony theft and four counts of misdemeanor theft, Leavenworth County Attorney Todd Thompson said. His first hearing is set for 9 a.m. Wednesday, Feb. 16 in Leavenworth District Court.
Items stolen from the high school ranged from band and sports equipment to toiletries and cleaning supplies, Thompson said. He said the alleged victim for the count of felony theft was the high school, and the alleged victims for the four misdemeanor counts are individuals.
It was a stolen iPod that led to Basehor police's discovery of the thefts, police chief Lloyd Martley said.
After one victim filed a police report for the missing iPod, Basehor police plugged its serial number into a database where pawn shops catalogue their merchandise. They discovered that the iPod had indeed been pawned at a local shop, and from there they were able to connect the dots to other property that had been stolen from the school, Martley said.
"Being a custodian, he had access to everything," Martley said. "He had keys to everything."
Thompson said the total value of the property recovered in the case was about $3,000.
Bullock worked as a night custodian at the high school, but the Basehor-Linwood school board approved the termination of his employment at its Nov. 8, 2010 meeting. The district suspended him without pay shortly before then, Basehor-Linwood Superintendent David Howard said.
Howard said he could not discuss why Bullock was terminated because it was a personnel issue. Bullock began work with the district in January 2009.
Bullock's termination came before Basehor police discovered the thefts, Martley said.
"Based on what was recovered, he's probably been doing this for a very long time," Martley said.
Martley said the case served as a reminder of the importance of filing police reports for stolen property, and he credited Lt. Bob Pierce with good investigative work on the case.
"If you don't file a police report, then we will never be able to find your piece of property," Martley said.
Though the property recovered by Basehor police included high-dollar items such as a laptop and a student's guitar, school officials did not notice a distinctive pattern of theft related to this case, Howard said, because theft can be commonplace in a school building.
"I would tell you that a lot of times, most schools do have theft," Howard said. "A lot of times it's occurring, unfortunately, by students."
Other times, he said, school officials and police may not hear about thefts at school because the victims don't report it.
Howard said the district was not planning any changes in response to the thefts.
"We're not going to punish everyone for one person's actions," he said. "I don't think it's been an issue in the past."
He said administrators always told students to be careful about what personal property they bring to school and to keep valuables locked up if they do bring them.