Leavenworth County Commission refines administrator job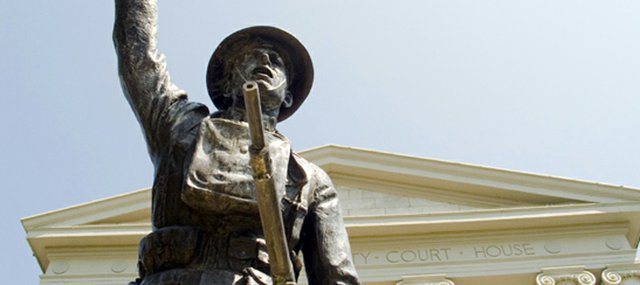 As Leavenworth County commissioners prepared to begin interviewing candidates for the county administrator position, they voted Thursday to make a small change in the position's job description.
The commissioners voted, 2-1, to include a passage calling for the administrator to "work closely with the county clerk" when preparing the county budget. Commissioner John Flower opposed the change.
Commissioner Clyde Graeber proposed the new language. He had proposed including a similar passage when the commissioners discussed the job description late last year before advertising for the opening.
The next day, Friday, the commissioners interviewed four of the eight remaining candidates for the administrator job. The remaining four interviews had been scheduled for this week, but the commissioners rescheduled them for next week because of the forecasted snowstorm.
Also on Thursday, the commissioners:
• Authorized, 2-1, the buildings and grounds department to spend $6,589 to replace part of the ceiling and wall in the Emergency Management Services headquarters building as part of fixing a mold problem there. Commissioner Bob Holland opposed the measure.
• Approved, 3-0, $71,000 in matching funds from the county for the Council on Aging as part of the council's application for a state grant, as well as an additional county match of $8,095 to allow the council to purchase a new vehicle with a portion of the grant.
• Approved, 3-0, special use permits for a tree service and an engine repair business.
• Remanded, 3-0, the final plat for the Dominic Subdivision back to the Planning Commission for review.
• Entered into two five-minute periods of executive session, to discuss prospective non-elected personnel and pending litigation.
Graeber was absent from Monday's meeting. That day, commissioners:
• Voted, 2-0, to maintain the county's current janitorial contract, which requires county employees to collect and dump departments' trash outside the county courthouse.
• Approved, 2-0, the purchase of road sign replenishment material from the National Sign Company for $7,414.
• Voted, 2-0, to change county offices' hours of operation to 9 a.m. to 3:30 p.m. on Tuesday and Wednesday because of the forecasted weather, with the possibility of further changes to the schedule as the effect of the weather becomes more clear.