Lombardino enjoys breakthrough year with Lady Blues
Basehor-Linwood graduate earns
MIAA

Player of the Week honors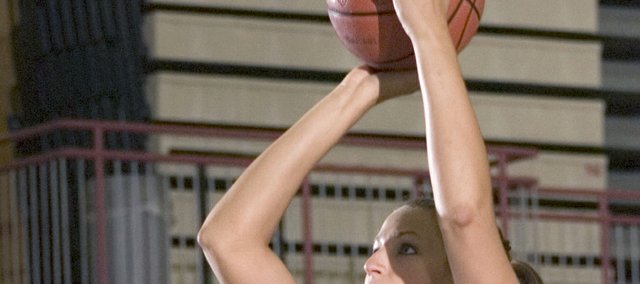 After waiting her turn for two years, former Basehor-Linwood girls basketball standout Cassie Lombardino is having a breakout season at Washburn University.
Lombardino played in just 44 games and averaged just 2.8 points per game during her first two seasons with the Lady Blues.
As a junior, however, her role has changed dramatically.
"The past couple years I was a young person in the program. I was a backup for people, and that kind of (allowed me to see) the other people and what they had to do to play and perform out there," Lombardino said "I think this year was my chance to step up and work really hard in the off-season and preseason."
Lombardino took the lessons she learned as an observer and has used them to make herself a better player.
She is the Mid-America Intercollegiate Athletics Association's leading scorer with a 17.7 points per game average through the first 17 games of the season. She's also one of Washburn's top rebounders at 6.1 per game.
Sitting on the bench for two years was difficult for Lombardino, but it proved to be good motivation once her turn arrived.
"I would say so," Lombardino said. "I mean, you see how much fun people are having playing out there and how much it could be if you step it up and got out there.
"High school basketball and college basketball is a whole different game (with) what you have to do to get into the program, and once you figure it out like I did this year you can be a pretty good player."
Lombardino said she lacked confidence her first two seasons at Washburn, but that has changed as she has received more playing time this season.
Along with adjusting to more playing time, Lombardino was also asked to fill a leadership role on the team. Washburn returned just two seniors this season and had to replace five starters.
"In preseason that was made clear to a couple of us, that we had to step up and be leaders because we lost all five starters. So definitely the bench had to step up and do a really good job," she said.
Lombardino has stepped up her performance so much this season that she has attracted attention. She was named the MIAA Player of the Week on Jan. 10. That honor came after she averaged 32.5 points during a two-game stretch, including a career-high 35 points against Southwest Baptist. That was the fourth-highest single-game scoring total in Washburn history.
"MIAA has always been a very strong conference, so being named Player of the Week is a great honor of course," she said. "Players always get that, and I never thought I would get that. But I also see it as another confidence builder. It's nice to see that other people know you are doing well."
Lombardino has scored 20 or more points seven times this season. Still, the individual accolades aren't her only accomplishment. Washburn is 14-3 this season and in the hunt for the MIAA regular-season championship. Lombardino sees that as the culmination of a unique group of people that have worked well together all season long.
"We have a ton a different scorers and we all bring something different to the team. Everybody brings something different, and I think that really helps to have a good solid team," she said.
Lombardino credits the coaching staff for keeping the team focused and helping her get on the right path for basketball.
"Coach (Ron) McHenry can be intimidating at times, but he's a great coach. He's a good guy too, and this year we've built our relationship better," she said. "(Assistant coach) Toni Gross is great, and she always helps with our lifting and gives emotional support. If we need anything, we can go to her."
The Lady Blues have garnered some national attention over the past few weeks as they've climbed to No. 6 in the nation in NCAA Division II. They're coming off two straight losses to Nebraska-Omaha and Northwest Missouri State, however, so they're looking to refocus for a postseason run.
"We always want to keep that ranking and play for regional and conference and a whole bunch of things, but being ranked up high definitely puts a target on our back," Lombardino said. "We get every team's best shot, so we always have to be on top of our game."
If everything plays out right, the team is looking for bigger things out of this season than even an MIAA championship.
"Going all the way (for a national title) would be really nice. You've just got to get everybody on board and start playing well again (and raise) our confidence. Every team goes through a little dry spell. I feel like we can use this to our advantage and kind of bounce back from it," Lombardino said. "Definitely our aspirations are to get very far, if not all the way to the NCAA Tournament. But as a team we just take it more day by day and do what we need to do to win the next game. What is really nice about this team is we're not too focused on the end goal."
While Lombardino is aiming high on the basketball court, she's doing the same thing in the classroom. She began studying at Washburn's nursing school this semester. Since she just started, she is unclear of what specific area of medicine she wants to work in, but she knows she will have to work hard to balance school with basketball.
"Off the court (I'm trying to) just maintain good grades in school and just really focus on nursing school the next couple of years. I know it will really pay off," Lombardino said. "I've really enjoyed it so far, and I'm excited to get going on that."
As for basketball, Lombardino wants to continue her success of this year, but also continue to make her team better during the rest of her career.
"On the court I need to continue to build my game up and get better every day, and do what it takes for me to help the team win. I don't really have any other huge goals other than that," she said. "I don't want to say that I don't want to succeed personally, but I'd rather the whole team succeed than an individual deal by myself."