Mayor Terry Hill addresses rate increases in State of City speech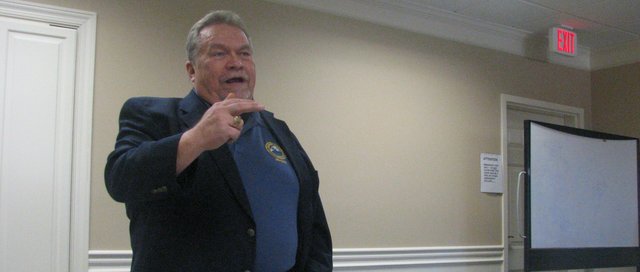 Mayor Terry Hill took an opportunity in his 2011 State of the City address Thursday to give the city's side of the story about two issues on Basehor residents' minds lately: the 40-percent sewer rate increase and the new solid waste contract that adds curbside recycling.
During his address, which he gave at a Basehor Chamber of Commerce meeting at Community National Bank, Hill gave an update on city government developments during the past year, starting with an explanation of the Basehor City Council's decision-making process in electing to bump residents' sewer rates by 40 percent for 2011.
"I know when people read in the paper, '40 percent increase in sewer rates,' it's hard to understand," Hill said.
He gave a bit of history on the issue, explaining that the city decided to expand its sewer plant before the economic downturn hit, when the city's sewer fund was flush with connection fees from new houses.
During a few years late in the last decade when the city received more than 100 sewer connections each year, Hill said, council members opted not to increase sewer rates at all, despite a recommendation from an accounting study that the city increase fees by 2.5 percent each year in order to pay off the state loan that paid for the plant expansion. Now that connections have fallen to less than 10 per year after the housing market fell, the city was forced to make some steep increases in fees in order to pay off the $11 million debt to the state.
This time, he said, council members decided to tackle the problem immediately, giving the city an immediate cash reserve in case repairs are needed and saving residents some money in the long run.
"No one can tell us what the connection fees and the growth in Basehor is going to be," Hill said. "If the economy turns around and we have a lot of housing starts, great. It'll be great. But we can't count on that."
As for another recent fee increase, on solid waste service, Hill said the council decided to add curbside recycling at the cost of $2 more per month for residents because most residents would be willing to make that change.
"Over my course as mayor, I've had a lot of people come to me and ask me, 'When are we going to recycle?'" Hill said.
He said a 2008 scientific survey by Kansas City Community College students also provided evidence that Basehor residents were willing to pay a bit more to be able to bring recycling to the curb. About two-thirds of residents in that survey said they'd be willing to pay about $3 per month for the service.
Residents will now pay about $14 per month for solid waste service. Deffenbaugh Industries, the city's trash contractor, would have charged $12 per month this year for service without recycling.
Hill opened his speech by remembering his shy nature as a child, and then telling the Chamber members and Basehor citizens not to be shy about promoting Basehor's strengths.
"When you go to your dentist, tell him, 'Hey, we have office space available in Basehor.'" Hill said. "Tell your friends and relatives, if they're looking to relocate, 'Basehor is a good home base for you to live and move.'"
Hill also updated the audience on the city's Pavement Management Program, the Planning Commission's efforts to establish new architectural design standards and the city's new committee tasked with awarding city donations to nonprofit organizations.