Seniors,
DRE

first graders begin pen pal friendship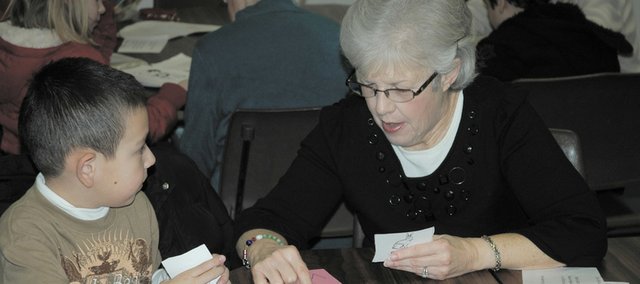 Ivan Ramirez whipped through a stack of vocabulary books he brought to share with Winnie Vitt, his pen pal, only stopping for her help every once in a while.
Photo Gallery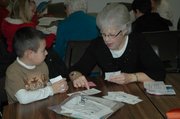 Seniors meet pen pals
Seniors at the Bonner Springs Senior Center have been corresponding with pen pals in Kristi Mayer's first grade class at Delaware Ridge Elementary School for the past several months. On Friday, they got to meet their pen pals face to face and they hope to continue the meetings monthly for the rest of the year.
After several months of corresponding, Ivan and his fellow first-graders in Kristi Mayer's Delaware Ridge Elementary School class were meeting their pen pals at the Bonner Springs Senior Center for the first time.
"They're kind of entertaining us — showing us what they can do," Vitt said. "They learn to read so much younger these days. He's good!"
Tina Ashford, director of the senior center, said at the beginning of the school year, they put the word out to schools that the seniors would like to get involved and help out in any way needed. The social worker and counselor at Delware Ridge then put her in contact with Mayer, who suggested a pen pal program.
The senior center hasn't participated in such a program in at least the past several years, but Ashford said it was right up their alley.
"We wanted to get more involved in the community and provide a chance for the seniors to kind of give back to the community and interact with children — they love to work with kids," she said. "It gives them a chance to share their stories about what it was like when they were younger."
The pen pals so far have written and exchanged about two letters each. Because the students are still practicing their reading skills, Vitt said the topics covered in the letters have been pretty simple so far.
"Not a lot for first-graders," she said. "He's told me about his soccer, and I tell him about how my grandkids played soccer."
But Mayer said receiving a letter was always the highlight of the day for her students, and she hopes that meeting in person will only help the intergenerational communication. She hopes to have the pen pals meet up once a month for the rest of the school year.
Ashford said while the first-graders certainly would benefit from the letter exchange — they practice their writing skills, learn to share about themselves and maybe learn a little bit about what going to school was like in the days before computers and the Internet — the seniors would benefit just as much.
"The seniors, I think they get a lot of fulfillment out of it," she said. "A lot of their grandchildren have grown, so it gives them a chance to work with younger children and share. And I think it makes them feel special. They get a good feeling out of it, and I think they're going to create a good connection with each other and hopefully a good friendship."