Bobcats wallop
THS

boys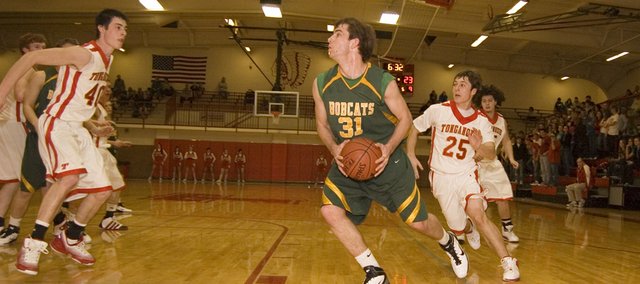 Any hope the Tonganoxie High boys basketball team had of hanging around with rival Basehor-Linwood Saturday flew out the gymnasium door early as the longer Bobcats routinely shot over the Chieftains in a 76-51 dismantling.
BLHS had its first double-digit lead minutes into the first quarter and the margin kept growing from there.
The Bobcats (12-1 overall, 6-1 Kaw Valley League) shot out of the gate with an 8-0 run and were up 13-2 before THS scored a basket.
In what became a trend throughout the blowout, BLHS junior swingman Colin Murphy scored in the paint and from behind the arc during the early run. His teammates had almost an equally easy time — Ryan O'Donnell hit a pair of jumpers, Austin Stubbs scored two at the free-throw line and Evan Theno sank a floater.
With three made free throws and a driving layup, junior guard Colby Yates scored Tonganoxie's first five points, but THS (6-7, 1-6) already was down 10 before somebody else — senior point guard Jeremy Carlisle — got in the scoring column.
In fact, Yates, Carlisle and junior center Dane Erickson were the only Chieftains to score in the first 15 minutes, accounting for 23 points.
It wasn't until junior forward Ben Williams hit a free throw with 49 seconds left in the second quarter that Tonganoxie had its fourth scorer and by then BLHS was up 15 points.
The distance between the teams grew in the first four minutes of the third quarter, as twins Colin and Ryan Murphy led a 15-4 spurt to open the second half.
Ryan scored seven of his 11 points in the run and Colin scored six of his game-high 28 in the stretch that also included a reverse layup by O'Donnell.
Carlisle's 16 points led Tonganoxie and his teammate Erickson added 15.
Bobcats senior guard Austin Laing finished with 10 points, scoring nine of them in a two and a half minute stretch of the second half.
On Tuesday, BLHS travels to Bishop Ward, in Kansas City, Kan.
The Chieftains next play on Tuesday at Mill Valley, in Shawnee.
Score by quarters
BLHS 18 23 27 8 — 76
THS 8 18 13 12 — 51
Basehor-Linwood scoring
Evan Theno 3 0-0 7, Ryan O'Donnell 3 0-0 6, Ryan Murphy 3 4-6 11, Colin Murphy 7 12-18 28, Austin Stubbs 0 5-6 5, Steyr Stubenrauch 1 0-0 2, Jared Patton 3 0-0 6, Austin Laing 4 1-4 10, Ryan Shaffer 0 1-2 1.
Tonganoxie scoring
Dane Erickson 4 7-7 15, Ben Williams 1 1-2 3, Colby Yates 1 4-6 6, Jeremy Carlisle 4 7-9 16, Dylan Jacobs 0 0-0 0, Dylan Scates 1 2-2 4, Brady Waldeier 2 3-4 7.