Basehor City Council split on Field of Dreams rebates for residents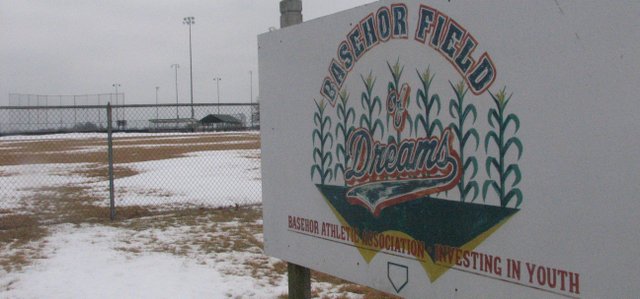 With the approach of the first year of youth sports at Basehor's Field of Dreams since the city took control of the complex, the Basehor City Council must decide later this month how much of a financial break to give to the families whose tax dollars went to pay for the purchase price of nearly $400,000.
Council members were split at Monday's work session about how much of a discount to give to Basehor residents participating in the sports programs, or whether to give a discount at all for 2011.
Complicating the decision for this year is that the council has no records available that make it clear how much a discount for Basehor residents would cost the city, or how much the city will need to spend each year for improvements and maintenance at the complex, city administrator Mark Loughry said.
Though the city knows that, in 2010, about 420 youths participated in baseball, softball or tee-ball while about 650 played football at the complex, no one knows just how many of those were Basehor residents and thus would receive the discount.
Because of these unknowns, council member David Breuer said he'd prefer not to offer a discount during this first year of city operation of the complex. He said the city should wait to see how much of a discount it could afford to offer, and then offer it beginning in 2012.
"I'm not against giving a rebate back to our people, but I am against jumping into this thing without any kind of baseline at all, with participation or anything like that," Breuer said.
The city's programming contractor for Field of Dreams, the National Youth Sports Sanctioning Organization, has set participation fees for 2011 at $60 for tee-ball, $80 for baseball and softball and $130 for football. Those are the same fees participants paid in 2010 for the same programs.
Other council members said the city should offer a discount right off the bat after spending tax dollars to purchase the complex.
Member Iris Dysart said she did not think the complex would be of any help to the city financially anyway, and offering a discount for 2011 would not change that.
"It's a money pit to begin with," Dysart said. "It's going to remain a money pit, so why not help the children?"
Member Bill Moyer said he supported offering an initial discount — and not just a small, token discount, but something families would notice.
"We just punched them in the nose with the sewer rate increase and a slight increase on trash," Moyer said, "so this is a way to say, 'OK, if your children play sports, you're going to get a nice, deep discount.' "
All of the city's revenue from the participation fees will go toward capital improvements at the complex, Loughry said.
Also supporting an immediate resident discount was member Dennis Mertz, who said he'd like the city to offer a discount of $20 to $30 per child for 2011, and to move toward cutting the prices in half in future years.
Mayor Terry Hill asked the council members to consider coming to a compromise before the issue comes up for a vote at the council's regular meeting Feb. 28.
"Everybody here has a valid point, and they have their beliefs," Hill said, "but somehow or another, we're going to have to come together with something and pass it."
Also at Monday's work session, the council:
• Looked at new sign standards developed by the city's Planning Commission. The sign standards will also appear on the agenda at this month's regular meeting.
• Viewed the bids received for the removal of the Chestnut sewer lift station. The lowest bid received was from Miles Excavating for about $110,500, well below the $275,000 budgeted for the project by the city.
• Declined to offer a reduction in excise tax for Total Electric Construction Co., an Edwardsville company considering a relocation to Basehor.