Military couple deals with long-distance marriage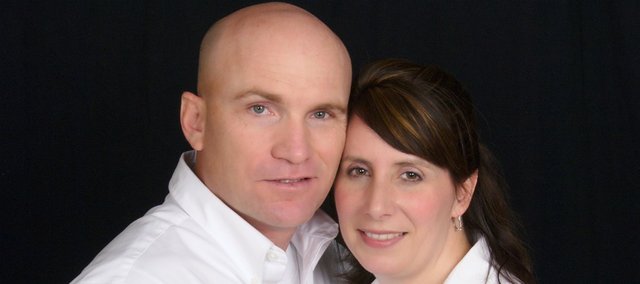 Kyle and Nicole Head weren't able to spend their first Valentine's Day together as a married couple in February 2008.
Through the power of the Internet, Kyle, who was stationed in the South American country of Colombia at the time, ordered flowers, a teddy bear and chocolates for his wife, who lives in Salem, N.H.
They once again will be apart this Valentine's Day. Maj. Kyle Head is attending school at the Command and General Staff College at Fort Leavenworth. He's been at Fort Leavenworth since late July and will finish with his studies later this year.
Although they aren't able to be together on Cupid's day this year, they still will celebrate.
"We'll be together at the end of February," Kyle said. "You just make up for it another time. It's really good."
Back in New Hampshire is Kyle's 18-month-old son and two stepdaughters. Kyle, who originally is from Mississippi, also has a daughter from a previous marriage who lives with her mother in Alabama, but they both will travel by plane during spring break to New Hampshire to be with the rest of the family.
Because his family is still in the process of getting permission from New Hampshire courts to relocate his stepdaughters, Kyle is away from his wife and family.
"I just think it's important when we are separate — quantity of time we can spend together is limited so you have to make quality as best you can," he said.
Nicole said Kyle is still a romantic from halfway across the country. He sends flowers, sometimes for no particular occasion. Recently, he sent her a photo while he was hunting. In the snow, with his shoes, he created the message "I love you."
Though she'd rather not be many miles apart, not being together for Valentine's Day won't be different than another day.
"For me, I'm just one of those people, I don't see Valentine's Day as the only day to express your love," she said. "I don't put a lot of emphasis on it that way."
Kyle was home for two weeks around Christmas.
"It was just kind of time hanging out with family," Kyle said. "And catching up around the house with things that piled up July to December."
Kyle also partners with Nicole to help the children with schoolwork via phone.
"She's the math and science brain," Kyle said. "I'm more the history and social studies brain."
They also stay in touch with text messaging and Skype, which allows for online video chats.
Kyle said it was somewhat confusing for his young son, Kyle James, when he was on Skype. He said they recently were having a video chat and their son kept looking behind the laptop to see the rest of his dad when he saw the face on the monitor.
"The 18-month brain just isn't grasping the concept yet," Kyle said.
Nicole hasn't always been a fan of Skype.
"Before, I didn't like using it because sometimes it made me miss him too much," she said.
She said there are good days and bad days when Kyle is not around, and seeing other families with the fathers at the table at restaurants can be tough. She said she ran a "myriad of emotions." At the same time, she said she's proud of her husband and that he serves his country in the military.
"What he's doing … you can feel good about it," Nicole said. "I'm very proud of what he does and love him. It's all worth it in the end."
That love will shine through Valentine's Day, as both likely will be seeing care packages in the mail — including Kyle's favorite candy, Reese's peanut butter cups, sent from their children.