Libraries' joint effort bringing filmmaker to Basehor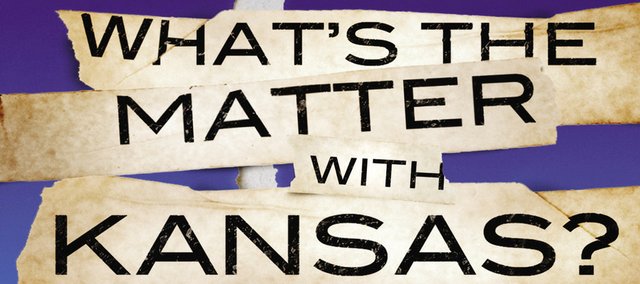 An exclusive event is coming to the area this month, thanks to a partnership between the Basehor, Bonner Springs and Tonganoxie libraries.
On Feb. 21, documentary filmmaker Joe Winston will visit Basehor Community Library for a screening and discussion of his 2009 film, "What's the Matter with Kansas?" based on the 2004 bestselling book by Thomas Frank that studies Kansas' political evolution from a radical to a conservative state.
By joining together, the libraries were able to present a caliber of event that one might expect to find at one of the metropolitan area's larger libraries.
Kimberly Beets, director of the Bonner Springs Library, said the documentary, which was released on DVD last month, is a great way for Kansans to both study their own history and learn how outsiders view the state.
"The book is more of a liberal slant, I guess you could say, but I think the documentary is pretty well balanced," she said. "It really looks at some different people in Kansas and it tells their story … if you're just interested in Kansas, and a lot of us are, it's kind of exciting to see a national spotlight shown on regular people in Kansas."
Winston, who co-produced the film with Laura Cohen, said that is the reaction he has received from many Kansans in previous screenings.
"The themes of the movie hit home for all Kansans; it's important to them," he said, adding that most have appreciated the way the film portrays Kansans, no matter what their political views. "They're just happy to see a nationally circulated movie that takes Kansans seriously."
The idea to bring the event to the area came from Laura Carroll, adult services librarian in Basehor. She learned that Winston was going to have a screening in Emporia on Feb. 22 in a partnership between the city library and Emporia State University.
"I figured, 'Well, you might as well come to northeast Kansas if you're going to central Kansas,'" Carroll said. "So I contacted the people that were in charge of it in Emporia and then contacted the filmmaker, and everyone was good to go."
Carroll e-mailed Beets and Royce Kitts, director of the Tonganoxie Library, to ask for help funding the program. Bringing the program to the area would normally be cost-prohibitive for any of the individual libraries, and by working together and working with Emporia, the cost came down for both showings.
The Linwood Library was also asked to participate but wasn't able to due to budget issues. Linwood is helping promote the program, however.
Beets and Carroll said this is the first time the three libraries have partnered to bring a program to the area.
"What's exciting is bringing in a nationally-known filmmaker is something you would hear about in Kansas City, Mo., or Johnson County (doing)," Beets said. "It's kind of cool that we are the only ones in the whole metro area doing this, and it's Basehor, Bonner and Tonganoxie."
The Basehor library was chosen as the site for the event because it has the largest meeting room, accommodating about 100 people. The libraries hope the event draws in visitors beyond the communities they serve.
"It really is for this whole northeast Kansas corridor here," Carroll said.
"We would love to bring in people from outside of our area — from Lawrence and Kansas City, because this is his only appearance in this part of the state," Beets added.
Because Winston was committed to Emporia's screening on Feb. 22, the local libraries had to choose either Feb. 21 or 23 for their event, and Carroll said they hope that though it is technically a holiday, holding the screening on President's Day will help bring more people to the event.
"None of the libraries are open for regular business, so that really makes this more of a special event," Carroll said.
While the documentary is political in nature, Beets stressed the libraries are not promoting any particular political viewpoint.
"We want, as public libraries, to feature stuff about Kansas and promote different things in Kansas, especially with the state celebrating 150 years," she said. "We have a wonderful, rich history; Kansas is pretty fascinating to talk about. I think it's fun for Kansans to see how Kansas is portrayed in the national spotlight."
Beets and Carroll said they also hope the libraries can join together again in the future to bring nationally-known authors and filmmakers to their patrons.
The film screening will begin at 6:30 p.m. and is set to last until 9 p.m. Feb. 21 at the Basehor Community Library, 1400 158th St., Basehor. Popcorn and snacks will be provided.