Minister recalls youth activism with
NAACP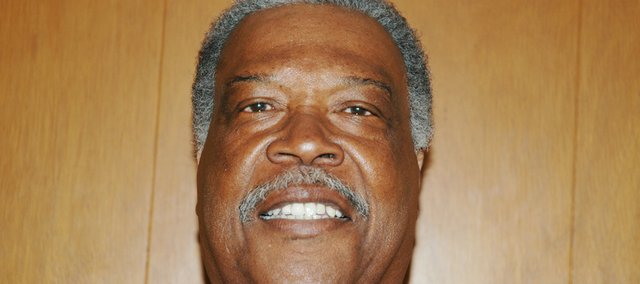 Editor's note: This continues a Black History Month series, profiling four residents who have made significant contributions to the community.
As Herman McConico looks back on the most memorable moments in his life, he gets a little fuzzy about the dates on which some of them occurred. This is to be expected, since the 66-year-old has led an active and busy life.
But what he does remember with crystal clarity is always knowing the difference between right and wrong and always having the need within himself to change wrongs into rights if he could.
"I feel that every person, regardless of his color, has a right to participate and enjoy the benefits of the nation or the world," said McConico, who has lived in Bonner Springs most of his life. "I'm a human being and … I have a right to enjoy all that God has provided, every provision that God has provided … I have a right to that. I guess an inalienable right. I've felt that way always."
McConico's longstanding activism began when he was about 13 or 14, he says, as one of the first members of the Bonner Springs chapter of the NAACP's youth group. He was recruited by one of the organization's founders, Louisa Fletcher, and says he was drawn to the idea of joining such a group because of the abject intolerance he saw around him in Bonner Springs.

"We could not got to the drugstore because there (were soda) fountains there," McConico remembers. "They wouldn't allow us to sit in there to eat our food, they wouldn't allow us to go to the Dari Dine, and we could not go inside and purchase our food and eat it. We could always buy it at the window and go our way. … And then at the movies … (we'd) have to sit in the balcony … (because) they wouldn't allow us to sit anyplace else in the movie theater."
After McConico entered Bonner Springs High School, he and several members of the NAACP began doing what NAACP members were doing across the country: taking part in sit-ins. On a regular basis all throughout his high school years, McConico and others would enter and sit down at places like the Dari Dine, Nash's Drugstore or Watson's Drugstore as a way to demonstrate they had a right to be there just like anybody else.
McConico says the reaction was usually the same each time.
"They wouldn't serve us. I don't remember any negative comments … (but) there was resentment, there was non-acceptance and, of course, there was the comment that you need to leave," McConico remembers.
McConico's youthful activitism didn't stop at the drugstore soda fountain, however. At age 16, he took it all the way to Washington, D.C. It was 1959, and Fletcher and her husband, Allen, took McConico and several other members of the NAACP youth group to the nation's capital to participate in a national civil rights march. McConico said he raised the money for the trip by going to businesses and asking for donations.
To be clear, this wasn't the same march in which Martin Luther King Jr. would give his legendary "I Have a Dream" speech years later, but McConico says it was a time he will never forget.

"I felt like I was participating," McConico said of the march, where he remembers holding a picket sign and standing among "hundreds of thousands of people of color." "I felt like I was making a contribution. I felt like I was part of history and I felt like it was a great pleasure … that (the Fletchers) afforded me to participate in."
McConico graduated from BSHS in 1962. In 1965, he joined the Navy, serving in Vietnam from 1966-1967. After his honorable discharge at an E-5 rank in 1969, McConico moved to Los Angeles with his new wife, Norma, whom he had married in 1968. There, he worked for Western Electric Company and also graduated from Los Angeles Southwest College in 1976 with an accounting degree.
McConico lived in California for 14 years, but moved back to Bonner Springs in 1984 to help his father with a new trucking business and to take a job with AT&T in Lee's Summit, Mo., where he stayed until his retirement in 1992.
McConico is now an ordained minister with Bonner Springs Grace Temple, and though he came to his current profession on kind of a scenic route, he says he is right where he should be. He gives credit for everything to the man upstairs.
"Here's what I believe … that it is God that works in us the will and the due of his good pleasure," McConico said. "God has worked in me his will to do those things, to be a part of the NAACP, to be a minister … whatever has been done in my life that glorifies him, he has done that in my life. To that end, I am in the process of accomplishing his will, because I am doing those things that brings him glory."
He says he is still active in the NAACP and hasn't given up on the sense of activism that took hold of him in his youth. In recent years, he has been working with the school district to try to bring more black teachers to USD 204.
Bonner Springs is far from the city it once was, McConico says, but it still has a way to go.
"I see we've come a distance, we've come a significant distance," he said. "Is there room for improvement? There's always room for improvement."