Born a slave, Groves became 'Potato King'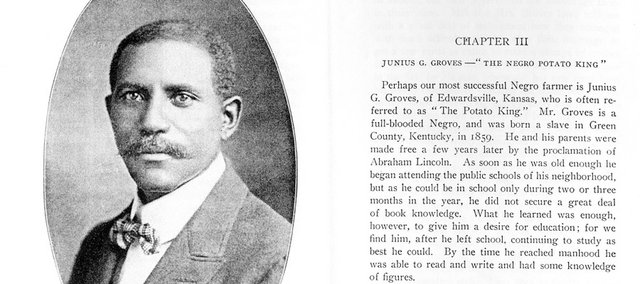 EDITOR'S NOTE: This continues a Black History Month series, profiling four residents who have made significant contributions to the community.
The "Potato King of the World," or Junius Groves as he was known to friends and family, was the richest man in Edwardsville by the time the U.S. Department of Agriculture bestowed that title on him in 1902.
But Groves began his rise to success with less than a dollar in his pocket, says his great-niece Mary Kimbrough, president of the Bonner Springs chapter of the NAACP.
Groves was born a slave on April 12, 1859, in Green County, Ky.
Several years after becoming free through Abraham Lincoln's Emancipation Proclamation, Groves and his family migrated to Edwardsville. When Groves arrived in Edwardsville in 1879, he had less than $1 to his name, but he soon got work as a farmhand, where in three months he began making 75 cents a day — a high paycheck for farmhands at that time.
According to a Nov. 30, 1988, issue of the Wyandotte County Star, Groves later got his start in the potato farming business when he share-cropped nine acres of land with farmer Jake Williamson. On that first farm, Groves planted both sweet and Irish potatoes.

The acres flourished, as did Groves' fortune. In three years, he was able to rent another 66 acres and, by 1896, Groves owned five adjoining farms totaling 500 acres of land.
He was dubbed the "Potato King" in 1902 because, according to the Wyandotte County Star, that year "his harvest was larger than any other potato farmer in the world."
Groves died on Aug. 17, 1925, possibly of a heart attack, but in his lifetime he was instrumental in much of Edwardsville's early development. He built two mansions, neither of which are still standing, and the Pleasant Hill Baptist Church, which is now across the street from its original home on 98th Street.
He built a golf course, also no longer standing, and his name is on the original deed of the historic Edwardsville Colored Cemetery, which some in the city refer to as the Stoney Point Cemetery. He was an original founder of the Franklin Cemetery, where he is buried, as well.
Groves and his wife, Matilda, had several children, and many of his descendents still live in the area. Kimbrough, who lives just outside of Edwardsville, is one. Her pride in her great uncle is evident in the massive collection of clippings and writings about him she has collected over the years. Kimbrough is too young to have known Groves, but she says she has been told from various sources of his kindness, his philanthropy and his intelligence despite the limited schooling he had throughout his life. She takes this lesson from his story:
"The greatest legacy I believe Junius Groves Sr. left was no matter how many obstacles get in our way and knock you down, get back up, keep your hand in God's hand and work hard to reach your goal," Kimbrough said. "All things are possible."