Pomp, with a circumstance
Basehor-Linwood board keeps valedictorian title, but with new weighted grading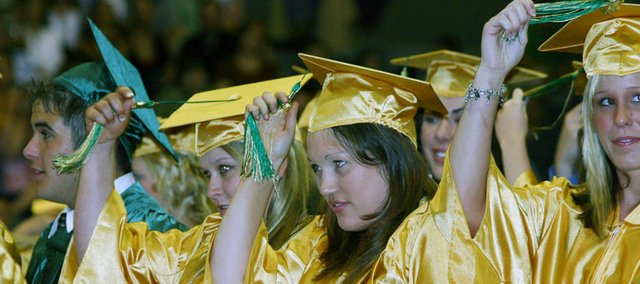 Future Basehor-Linwood High School students can still aim to become valedictorian at the conclusion of their senior year, but they won't likely be able to attain that goal without challenging themselves with some honors courses.
The Basehor-Linwood school board ensured that Monday by approving, 7-0, a new weighted-grade class rank system that will continue to recognize valedictorians and salutatorians among graduating BLHS seniors.
BLHS officials in December had suggested that the school board consider no longer awarding the valedictorian and salutatorian titles, instead recognizing the top 10 percent of students by class rank at graduation. No board members commented Monday on the decision to keep the titles, but board members who spoke about the issue during January's meeting supported keeping them.
The top-student recognitions will now remain, but the school will now use a weighted grade-point average, which awards extra points for grades earned in honors courses, to award those titles, rather than the standard 4-point GPA used before.
The adjustment to the class-rank system complements the addition of five new honors courses at BLHS, which the board approved in December, by encouraging students to enroll in those tougher classes with the incentive of extra grade points.
On the same night it put the finishing touch on schedule changes at BLHS, the board heard a proposal to adjust schedule options for sixth-graders at Basehor-Linwood Middle School.
BLMS principal Mike Wiley said administrators had discovered that some parents were unhappy with a scheduling quirk during the first school year since sixth-grade students moved up to the middle school. The elective options available to sixth-graders, Wiley said, had created a situation where students were essentially required to enroll in at least one music-oriented course: band, strings or choir.
Wiley said he understood that not every student is geared toward music.
"I would have been one of those students that, that wouldn't have been a really good thing for me," Wiley said. "It wouldn't have matched my interests."
He said this situation arose because students were offered four year-long elective, or "exploratory," course options: band, strings, choir or a "wheel" consisting of quarter-long courses in foreign language, art, technology and family and consumer sciences (the modern equivalent of the traditional "home economics" course).
The school's proposal to fix the issue, he said, is to separate the "wheel" courses into two year-long options rather than just one — one consisting of foreign language and art, and the other including technology and FACS. Under that system, students would be free to avoid the music courses if they so chose.
Another proposed schedule adjustment is to have seventh-graders take computer classes only every other day, alternating them with a health class. Seventh-graders currently take a full-year computer course, Wiley said, but future seventh-graders will have already completed the equivalent of half of that course in sixth grade, now that those students are at the middle school.
"These sixth-graders are going to move up with more skills than sixth-graders in the past," Wiley said.
Also during Monday's meeting, the school board:
• Heard an update from superintendent David Howard online communication efforts by the district, including a district Facebook page with nearly 800 fans and a new superintendent's blog on the district's website.
• Approved, 7-0, the addition of two school days, replacing two inservice days, to make up for time missed because of the weather.
• Approved, 7-0, the resignations of Hillary Raple, Basehor Elementary School fourth-grade teacher, and Danielle Dunivan, custodian.
• Approved, 7-0, the extension of contracts for administrators at the district office and each of the district's schools: Mike Boyd, assistant superintendent; Sherry Reeves, principal, and Joe Keeler and Jarred Fuhrman, assistant principals, at BLHS; Mike Wiley, principal, and Amy Garver, assistant principal, at BLMS; Teri Boyd, principal at BES; Jan Hancock, principal at Glenwood Ridge Elementary School; Cindy Hiebert, principal at Linwood Elementary School; and Brenda DeGroot, director, and Nicole Hodges-Williams, assistant director, at Basehor-Linwood Virtual School.
The administrators' pay will be determined later.