Seatons finish 1st, 2nd at
KVL

wrestling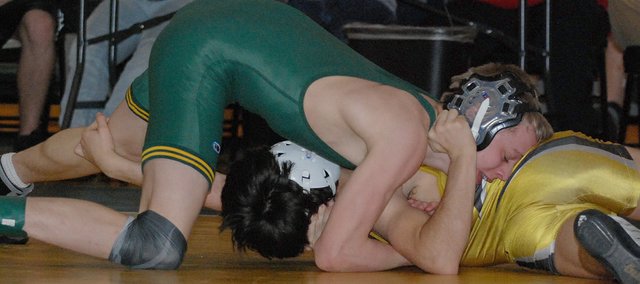 Kansas City, Kan. — It was a day of highs, lows and lessons learned for the Bonner Springs and Basehor-Linwood wrestling teams on Saturday at the Kaw Valley League Championships.
Both squads produced individual champions, and both showed they still have room to improve.
Turner won the team title in its home gym while scoring 169.5 points. Lansing was second with 149 and Mill Valley finished third with 138.5.
BSHS placed fifth with 90 points and BLHS was seventh with 60 points.
Neither squad was at full strength, and two of Bonner Springs' top competitors — 140-pounder Aaron Puckett and 145-pounder Mark Hobson — were held out of the meet to recover from injuries and illness.
One of Bonner Springs' other top performers — Jonathan Blackwell — scored the Braves' biggest victory of the day when the 2010 Class 5A state runner-up beat 2010 Class 4A state champion Symon Seaton of Basehor-Linwood in the 135-pound finals.
Seaton edged Blackwell in the season-opening dual in December but had been sidelined for nearly two months with a hand injury. Saturday marked Seaton's return to the mat, and he used a pin and a narrow decision to reach the finals. Blackwell advanced with a pin and an injury default.
In the finals, Blackwell came out on the attack and scored an early takedown. Seaton answered with an escape point, but Blackwell's endurance was better and he used it to his advantage en route to a 7-2 victory.
"He wrestled more cautious than he usually does, and I just tried to push the pace because I knew he wouldn't be in shape," Blackwell said. "I tried to take a lot of shots, a lot of fakes and a lot of movement."
BSHS coach Brandon Jobe said he was impressed with Blackwell's performance, but he said he knows Seaton will grow stronger during the next few weeks as he returns to form.
"Symon's coming off an injury, and he's been out at least six weeks, so he wasn't at his best, but Johnny looked good," Jobe said. "I feel like we controlled the match from start to finish. Hopefully this gives us a little steam going into next week (for regionals). Hopefully we see (Seaton) next week in the finals and then the week after in the finals (at state)."
Blackwell improved his season record to 35-4 while Seaton dropped to 11-1.
BSHS 125-pounder Caleb Seaton — Symon Seaton's cousin — joined Blackwell as the Braves' lone league champions. He received a first-round bye and then pinned Basehor-Linwood's Josh Summers in the semifinals before adding another victory by pin — this one in the final second of the match — against Tonganoxie's Justin Soetaert.
"Caleb wrestled really great today," Jobe said. "He just wrestled a solid match in the finals in all three positions. I've really preached with him this year that we've got to be solid on our feet, on top and on bottom. He looked really great in all three positions."
Caleb Seaton improved to 27-5 for the year.
Jobe said he was disappointed that his team took some tough early losses in matches that he thought the Braves should have won. Still, they bounced back and finished strong in the consolation bracket.
Josiah Seaton held off Mill Valley's Landon Scott for a 2-0 decision in the third-place match at 103 pounds. Jared Clements rallied for a third-place finish in the 171-pound weight class
Also for BSHS, 119-pounder Billy Fratzel, 152-pounder Chance Stites and 215-pounder Nick Clark finished fourth in their weight classes.
Sammy Seaton highlighted the day for Basehor-Linwood as he earned the Bobcats' lone individual title. Seaton battled to a 5-0 decision against Lansing's Cole Hoing in the first round, and Seaton grew stronger as the day went on. He pinned Piper's Ethan Bach late in the third period of their semifinal match and then pinned Turner's Tony Arzola during the second period of their final match at 103 pounds.
Seaton's victory in the finals was particularly impressive because he accomplished it after suffering an injury early in the first period when he was taken down hard out of bounds.
"It was really bad. I thought I wasn't going to be able to move after that, but luckily I fought through it," he said.
Seaton faced a 2-0 deficit entering the second period, but he scored a takedown early in the second period and then steadily worked for the pin.
"I was working for the wing the entire time," Seaton said. "I knew once I got that in I was going to roll him."
Seaton finally secured the pin late in the period and locked up a league title. He will carry a 17-6 record into the regional tournament.
"I feel like I've improved a lot," Seaton said. "I'm a sophomore, and I didn't wrestle last year as a freshman, so since I got back into it I'm happy and I'm glad I did well."
He was joined on the awards stand by older brother Symon Seaton who placed second at 135 pounds. Three other Bobcats — 112-pounder Michael Torrez, 125-pounder Josh Summers and 145-pounder Cory McCleary — finished fourth.
Both the Bobcats and Braves will compete Friday and Saturday at the Class 4A regional tournament at Holton. Other teams in the regional are Atchison, Baldwin, De Soto, Eudora, Holton, Royal Valley, Bishop Ward, Piper, Sumner Academy, St. James Academy, Jefferson County West, Perry-Lecompton and Tonganoxie.