Area resident works to build local music scene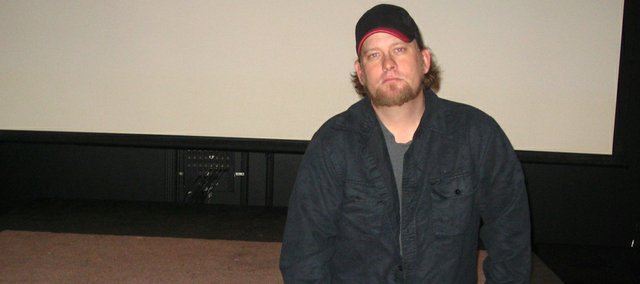 Shawnee resident Thomas Caprefoli met the Oklahoma City-based band Siva Addiction backstage during last summer's Tiblow Days festival in Bonner Springs.
Now, he has just completed organizing a music video shoot for the band, which took place earlier this month at the Aftershock Bar and Grill in Merriam and the Speedway Bar and Grill just outside of Bonner Springs. The video, which was for Siva Addiction's single "One Night Rodeo," was shot against a backdrop of a two-night concert Caprefoli organized, during which several area bands, including Crooked X and Drek, performed.
The video was shot and directed by members of Wichita-based Prestigious Films, but everything else, from shooting locations to hotel reservations, Caprefoli had a hand in putting together.
This was his first time working on a music video, and on Sunday, Feb. 13, the final day, of the shoot, Caprefoli said he was gratified and humbled by how everyone had pulled together to create such a memorable experience.
"It's been real amazing just watching it all come together," he said.
That all of this began as a simple backstage run-in with a Tiblow Days band is not so surprising when you meet Caprefoli. Two characteristics that stand out right away are that he can talk to just about anybody and he enjoys networking. But, more than that, he adores music and is especially supportive of local bands. He built his business, KC Productions Live, in September 2010 out of a desire to see local bands become more embraced by their communities.
Through the business, Caprefoli books bands and organizes several concerts a month at both Aftershock and the Speedway. To date, he has booked about 14 local bands at the Speedway and 17 at Aftershock.
"We've given basically the local bands a home … instead of (them) having to travel to the metro area to do things," Caprefoli said.
"A real skinny long-haired kid wearing my Kiss shirt around" is how Caprefoli describes himself as a youth, when his favorite bands were heavy metal acts like Motley Crue, Iron Maiden and Judas Priest. Even then, Caprefoli says he was aware enough to know he didn't have the talent within himself to be a musician. But he enjoys being around musicians so much that he's been working as a roadie for bands off and on since age 18.
Before KC Productions Live, Caprefoli's main sources of income came working as a plumber and then as a heavy equipment operator for Deffenbaugh Industries. He was laid off in 2008, though, and went back to the plumbing field for a while.
But Caprefoli soon became disillusioned with the inconsistency of his job and the fact he never knew where his next paycheck was coming from — a worry that was compounded by the fact that he had, by that time, become a father of three children. That worry, Caprefoli said, drove him to take a rather risky move by starting KC Productions Live.
"I thought, after my layoff, I'm going to take my own future in my own hands and do something I like," Caprefoli said.
That move has since paid off, and not just for Caprefoli, He works closely with bands like Drek, whose lead singer Scott Barnett is from Bonner Springs, doing many tasks a manager would do. Caprefoli promotes the bands and works with other production companies to get them more exposure out of state.
"I would do anything to help our local bands get noticed," Caprefoli said.
Though he wants local bands to feel like they have a home base, he also sees himself as a conduit through which they can, hopefully, move on to bigger and better things.

"I'm fine with that," Caprefoli said of bands finding success elsewhere or moving on to other promoters that may be able to help them even more. "I know that's how it works, and it'll be a happy day when they leave me and go on to something bigger and better by far."
Caprefoli says the music industry in this area is a "separatist" one, where bands are only motivated by self-interest and where "battle of the bands" events, where bands compete with other bands to get a headlining spot or free recording time, have made it next to impossible for some bands to succeed. This has to change, he says.
"What I'm trying to do is create a unity between all the bands to work together," Caprefoli said. "Because together I think we can get more done than being separatists."
Interested bands can contact Caprefoli or submit samples of their music through his website, kcproductionslive.com.