City council considering sewer rate break for car wash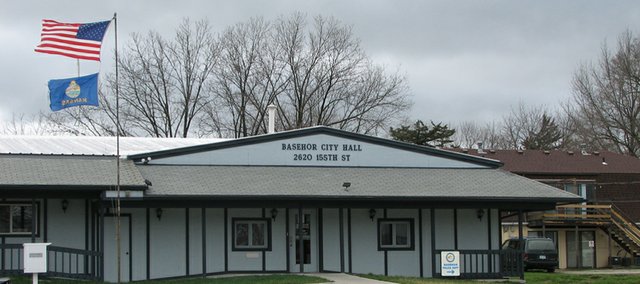 For the first time in several years, Basehor residents have a car wash in town where they can head to rinse off the grimy remains of a snowy winter.
But for residents to have that same opportunity next spring, the car wash may need a hand from the city.
Spots Off car wash, in the Basehor Town Square area off U.S. Highway 24-40 and 155th Street, opened in late fall 2010, said co-owner Brant Daniels. He said it was the first time Basehor had an operating car wash in at least two years.
Daniels, who lives in McLouth, has worked in the car wash business for 13 years, he said, and he owns car washes in McLouth and Tonganoxie as well as a construction company.
He said he had worked in and around Basehor for years with his company, Daniels Excavating, and he thought the city was in need of a car wash.
"I've felt for years that Basehor's been a very good, growing community," Daniels said.
He said earlier this week that, as is usually the case when the weather warms up for the first time after winter's snowfalls, business has picked up in the last few weeks, with about 300 cars coming by to use the building's automatic and self-service washing bays.
But the business is still losing money, he said, because of the cost of sewer fees for the high volumes of water that the facility sends down the drain. For that reason, Daniels' business partner visited the Basehor City Council at its work session earlier this month to request that the business be able to pay a lower sewer rate.
Daniels said the sewer rates in Basehor, which were just raised by about 40 percent to help pay off the city's debt on its wastewater plant, were much higher than the rates charged to his other car washes in the area. He said the rates made it impossible to keep a car wash afloat.
"It just won't work," he said. "There's no way around it."
At the city council work session, council members said they would support an ordinance establishing a lower commercial rate for businesses, like a car wash, that would need it.
City administrator Mark Loughry said at the session that the city had an ordinance in place that established a commercial sewer rate, at the request of a previous car wash, but it included a minimum sewer use limit that ultimately proved too high. The previous car wash, which used the same location, went out of business after its usage dipped too low to be eligible for the reduced rate, Loughry said, and Spots Off currently does not qualify.
City council member Iris Dysart said she hoped the city could help Spots Off stay in business.
"It's a good service to this community, and I really hated it when the other one closed up," Dysart said.
City finance director Corey Swisher said the council would likely consider the issue at its full meeting in March, after city staff can draw up an ordinance addressing the commercial sewer rate.
Daniels said he understood that residents' sewer rates had risen steeply as well, but he said that a reduced rate for his facility would help the whole city by keeping it in business. The car wash generates sales taxes, draws motorists off the highway who might then patronize other Basehor businesses, and provides residents a place close-by to wash their cars, he said.
Without a break from the city, he said, the business won't be able to sustain itself.
"This isn't the first one I've run," Daniels said, "and we've done everything in our power to try to make it doable."