Return of the champ
Symon Seaton's senior year was interrupted by a broken hand, but the state champion is back with his sights set on another title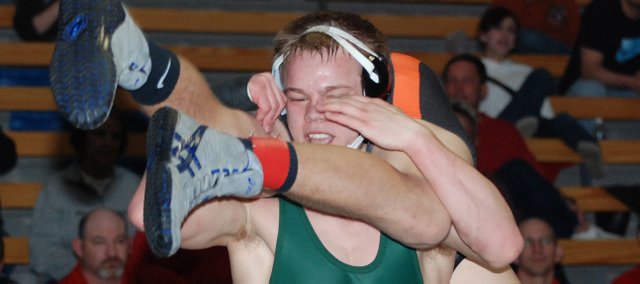 Holton — Symon Seaton has always been a no-excuses kind of guy, so he spent a full week beating himself up for wavering in that area at the Kaw Valley League Championships.
It was his first tournament back after missing six weeks with a broken hand. He admitted he was nervous about everything, from his stamina, to how the match would go and how his wrist would hold up despite being wrapped in black tape.
"I had a frustrating match in the semis, and I couldn't get over it," he said, "and it just … I think I was just feeling down on myself, feeling sorry for myself.
"In the semifinal match, right when I walked off the mat, my coaches got in my face and they were kind of disappointed in me. I won the match, but they were kind of upset, and my excuse was 'My hand hurts.' It was just an excuse, because physically in the match it didn't hurt. But I just couldn't believe why I just wasn't wrestling that well."
Seaton went on to fall in the KVL championship match to rival Jonathan Blackwell of Bonner Springs, 7-2.
If there's such a thing as a good loss, Seaton says that one was. He hasn't been the same since.
"I'm glad I lost (at league)," he says, "because I had all week to think about losing. It killed me, and I just worked that much harder."
One week later, Seaton looked mostly back to original form during the Class 4A regional tournament Friday and Saturday, Feb. 18-19, at Holton High School.
His stamina was better, his technique was a bit more polished and he reacted faster to anything his opponents did. More important, however, was the fact that his confidence was back.
Plenty has happened this season to rattle Seaton's confidence. It all stems from the broken hand, which he is a bit embarrassed to admit happened when he had an accident while longboarding with fellow wrestling state champ Zack Tanenbaum of Blue Valley North during winter break.
"I just made a dumb mistake … I messed up," he says. "I'm definitely not going to do that in season again, that's for sure."
He lost his balance and reached down to break his fall. In the process, he broke his hand.
"It was really swollen up after I did it, and I remember my friend Zack saying, 'You'll be all right. It's just messed up right now, but I don't think you broke it.' But I knew I broke it. I could tell," Seaton says. "It worried me quite a bit. I was like, 'There goes my scholarships. There goes everything. Coaches aren't going to look at me when they see I made this big of a mistake during the season.'"
His concerns grew upon visiting the doctor.
"The first one said (it would take) six to eight weeks (to heal), and I had regionals in seven," he said.
A visit to a specialist brought better news, however. He was told he could be back in three to four weeks. It took a bit longer, but he still made it back.
"I was so much happier," he recalled. "I was about to break down in tears at the first doctor's office."
While waiting for his hand to heal, Seaton spent time working with teammates during practice and sitting in a coaches' chair calling out instructions and encouragement at tournaments.
He says he enjoyed helping his teammates improve, but the time off from the mat wore on him. He was frustrated and bored.
The time away gave him perspective, however.
"I'm just grateful that I got to come back," he said. "When I broke my hand over winter break, it really just made me look at things. It just made me appreciate the sport of wrestling more, especially my senior year."
His return to the mat at the league tournament didn't go as planned, but now the doubts are gone. He regained most of his form at regionals. He dominated his first three opponents, winning by pin, technical fall and major decision. Then he avenged his only loss of the season to Blackwell by earning a 6-4 overtime victory in the finals.
Seaton says the regional performance did plenty to boost his confidence entering the state tournament. He'll be a No. 1 seed and he has a 15-1 record.
Regardless, he's not taking anything for granted. That has been the ultimate lesson this season. He appreciates his second chance, and he sees himself as the underdog with more work to do as he pursues a second straight Class 4A state championship.
"I like to wrestle as the underdog. I love it," he said. "On (the) All-Class (rankings), I don't know if you look at that, but they moved me from second — I was right behind Zack Tanenbaum who I broke my hand with. I got beat by Blackwell, and I had Zack, a freshman and Johnny above me. All I had to do was print that off and look at it every day."
If Seaton gets his wish, he'll finish back at the top.