Three Bobcats still alive after day 1 of state wrestling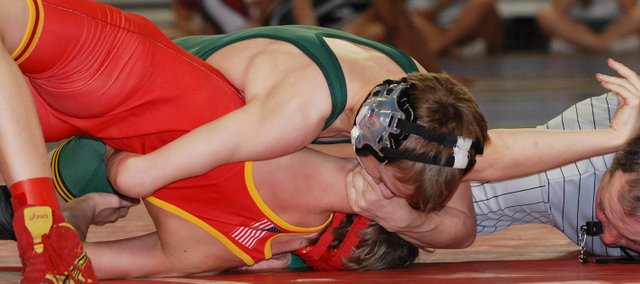 Salina — Last year, Symon Seaton was on top of the world at the Bicentennial Center.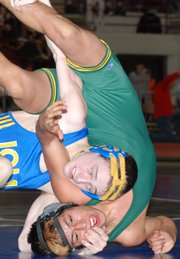 The Basehor-Linwood wrestler closed out his junior season with a Class 4A state championship.
His title defense began Friday, but it didn't go as planned.
Seaton won his first-round match in fine fashion as he disposed of Rose Hill's Travis Belnap in a 9-0 major decision, but in the next round he ran into a much tougher test from Abilene's Courtney Strauss.
Seaton took an early 2-0 lead, but Strauss eventually rallied and took the lead. The match was tied at 4-4 late, but Strauss scored another takedown. Seaton pulled within 6-5 in the closing seconds when Strauss was called for unsportsmanlike conduct for shoving Seaton out of bounds, but Seaton ultimately ran out of time and lost 6-5.
The loss — just Seaton's second of the year — dropped him into the consolation second round where he will meet Clay Center's Jayde Kolterman on Saturday morning. Seaton needs two straight victories to reach the medal rounds, and the highest he can place is third.
He will be joined in the consolation second round by his younger brother, 103-pounder Sammy Seaton, and junior 119-pounder Antonio Ferro. Both Sammy Seaton and Ferro lost their first-round matches but bounced back Friday afternoon to win first-round matches in the consolation bracket.
After falling by a 10-0 major decision to Andale's Tyler Miles — a state finalist — in the first round, Sammy Seaton came out on the attack in his next match. He scored a quick takedown and then added a 3-point near fall before ultimately pinning Derek Creel of Colombus.
Ferro was pinned by Concordia's Taelor Mendenhall in the first round, but Ferro responded with a smart consolation match against Iola's Mike Armstrong. After a scoreless first period, Ferro scored a second-period takedown. He then fought off a late challenge by Armstrong, narrowly fending off a takedown before scoring one of his own with 15 seconds left to take a 4-0 victory and advance.
Michael Torrez, a senior 112-pounder, went 0-2 on Friday and was eliminated from the tournament. He dropped a 7-0 decision in the first round to Abilene's Junior Morgan and then was pinned in the consolation first round by Andrew Fix of Parsons.
Basehor-Linwood is in 31st place out of 54 teams with 7 points after Friday's rounds. Andale is in first place with 120.5, St. James Academy is in second with 78 and Abilene is third with 68.5.