Murphys lead
BLHS

boys past Piper in substate opener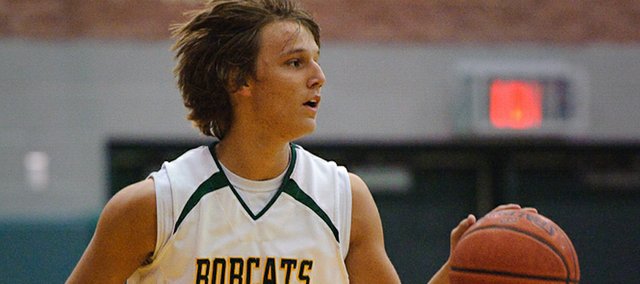 Basehor-Linwood played about 26 good minutes of basketball on Monday, defeating Piper 63-34 in the opening round of Class 4A substate play at BLHS.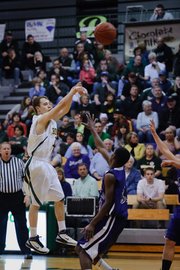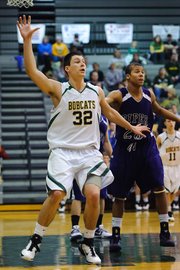 That statement is a quick coach's critique five minutes after the game. Coach Mike McBride said the performance was another step forward for a team looking to regain its top form after late regular-season struggles. The Bobcats have played a little bit better each game since playing poorly against Mill Valley and Lansing.
"Honestly, we were just going for 32 good minutes of basketball tonight, one minute at a time, one possession at a time," McBride said. "We were trying to play team basketball again tonight."
One other theme late in the season is that the team has needed to run its offense through Ryan and Colin Murphy. They are the team's junior frontcourt players who lead the team in scoring.
"We have got to go through them on offense," McBride said. "We want them to touch the ball. We have other guys that can score, but why not let us run the offense and then those players can do their thing."
The offense ran through the Murphy twins on Monday with them combining to score the team's first 19 points of the game and 21 of the team's 24 points in the first half.
"We took a big step toward the ultimate goal tonight," Colin Murphy said. "We played offense a little more, set some screens and got some open layups."
The halftime score was 24-17.
The Pirates ran a possession offense in the first half and were effective, but Basehor-Linwood was simply too precise on offense. With the score 7-6, Basehor-Linwood went on a 12-7 run, which spanned two quarters. The Bobcats routinely ran the offense and found the Murphy twins for open looks.
In the second half, Basehor-Linwood continued looking for players inside, but it was Ben Johnson who led the team's scoring in the paint. Johnson scored 11 points in the third quarter and propelled the team's play inside.
He was aggressive going to the basket and rebounding the ball on both ends of the floor.
Basehor-Linwood led 40-23 entering the fourth quarter. In the game's final eight minutes, Johnson scored six more points and Basehor-Linwood outscored Piper 23-12.
For the game, Ryan Murphy led the team with 18 points, Johnson finished with 17 points and Colin Murphy scored 13 points.
Also for BLHS, Austin Laing scored 6, Tanner Garver had 4, Ryan O'Donnell and Ben Waterman had 2 apiece and Ryan Shaffer added 1.
Piper was led in scoring by Quincy Totta who finished with 14 points.
With the win, Basehor-Linwood advances to play Bonner Springs at 7:30 p.m. Thursday at Piper High School.
"This should boost our morale a little bit and get us heading in the right direction," Colin Murphy said.