Bobcats pass first test of 2011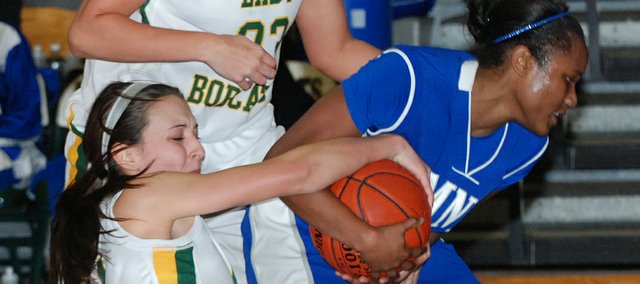 The Basehor-Linwood girls basketball team learned in its final game of 2010 that it is beatable if it doesn't play its very best.
The Bobcats learned another important lesson in their first game of 2011 on Tuesday night against Sumner Academy: Just because they may be down, they're never out of a game.
The Bobcats overcame a miserable start to the game and a 12-point deficit, took their first lead with 49.9 seconds to go and held on for a 45-42 victory at home.
"We just know that we can come back, and we need to be able to face adversity," senior Macyn Sanders said. "That's a substate team, and looking at going to state we need to have tough games like this and be able to push back no matter how much we're down by."
The Bobcats turned the ball over on three of their first possessions of the game, and Sumner capitalized by taking a quick 6-0 lead. After a lay-in by senior Megan Bergstrom off of an assist from senior Courtney Poe put BLHS on the board, Sumner took advantage of more Bobcat turnovers and surged to a 14-2 lead.
BLHS coach Noah Simpson was so frustrated by his team's play that he benched the starters and brought in his second five. Sophomore Jamie Johnson promptly found junior Maggie Hattock in the right corner for a 3-pointer just before the first-quarter buzzer that pulled the Bobcats within 14-5.
Sumner senior Kathleen Brisbane scored 8 first-quarter points, mostly around the basket. Basehor-Linwood adjusted by switching to an aggressive zone defense, and it turned the game around in two ways. First, it forced the Bobcats to ramp up their intensity. Second, it diminished Sumner's good looks at the basket.
The Sabres turned the ball over on six of their first seven possessions of the second quarter. Sanders and Johnson led the defensive effort, sprawling on the floor for loose balls and leaping into the stands to keep plays alive. BLHS pulled as close as 16-10 in the quarter before trailing 23-14 at halftime.
The Bobcats gained confidence as the game went on, and they slowly continued to whittle away at the Sabres' lead. A turnaround jumper by Bergstrom and a 14-footer by Poe pulled BLHS within 23-18 early in the third quarter. Sumner answered with back-to-back buckets from senior Alexandria Blaurock and pushed the lead to 27-18.
Just as the Sabres were regaining control, Johnson stole an inbounds pass and laid it in. On the next possession, senior Amanda O'Bryan found Sanders open for a 3-pointer that trimmed the deficit to 27-23. The teams traded buckets for the remainder of the quarter, and Sumner carried a 33-27 lead into the fourth quarter.
After swapping buckets to open the final period, Bergstrom scored and was fouled on a put-back. Her ensuing free throw pulled Basehor-Linwood within 35-32. The teams again traded baskets before a Johnson steal led to a layup by senior Shelby Equels with 3:45 to go. Just like that, the Bobcats were within a point. Blaurock drove down the lane for a layup on Sumner's next possession, but BLHS came right back with a 3-pointer from Sanders that tied the game.
"Macyn's three to tie it at 39 was huge," Simpson said. "We had talked a little bit about it earlier in the game. I said, 'Look for your shot.' That was awesome. She comes through on offense, catches it right in stride and hits it."
Blaurock answered with a trey at the other end to make it 42-39, but the momentum had fully shifted to BLHS by then. Sanders found Bergstrom for a turnaround jumper on the next possession. Then, out of a timeout, Sumner threw the ball away on an inbounds pass. Seconds later, Bergstrom drew a foul and swished a pair of free throws. That gave the Bobcats a 43-42 lead with 49.9 seconds to go.
Sumner appeared to regain the lead when junior Sameia Kendall made an off-balance layup, but officials determined she'd been fouled by O'Bryan before the shot and waved it off. Still, Sumner had another chance. Brisbane drew a foul on a put-back attempt with 7.7 seconds to go, but she missed both free throws. Bergstrom grabbed a rebound after the second miss. She then sank two free throws with 3.1 seconds left.
Kendall's long 3-point heave sailed wide to the left as time expired, and the Bobcats celebrated one of the greatest comebacks in Simpson's four years at the helm.
Basehor-Linwood had its share of struggles throughout the game, including 18 turnovers and a first half where it made just 6 of 21 shots, but Simpson said the miscues all are correctible. At the same time, he said there were lots of positives for his team to build upon. In particular, he saw his players finally jell as a team — starters who were benched offered vocal support from the bench; reserves gave great effort and helped spark the comeback; go-to players stepped up with the game on the line and helped finish the job.
"I think they really bought in tonight," Simpson said. "I said 'Guys, don't focus on any negative thing that happened. We will correct the negative things, the kind of things that were out of whack tomorrow at practice. We've got to get after it some more. Take everything positive away from this win, because this is a great win.' That's a substate team. That's a team that made it to the semifinals at substate last year, a team that we played twice last year and split with. They're good, and they're very well coached."
Brisbane led Sumner with 12 points, and Blaurock and Kendall added 11 apiece.
Bergstrom paced BLHS with a game-high 17 points, Sanders had 8, and Poe and Johnson chipped in 6 apiece.
Basehor-Linwood (4-1 overall, 2-0 Kaw Valley League) returns to league action at 6 p.m. Friday at home, playing host to Bishop Ward.