Top honor
Former
BLHS

valedictorians weigh in on achievement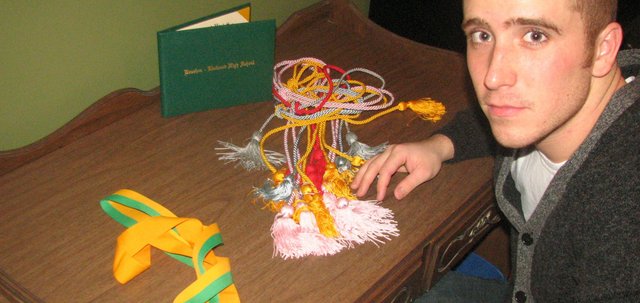 Nearly 11 years ago, Jake Hills listened as a valedictorian spoke at his older brother's Basehor-Linwood High School graduation ceremony.
As Hills, then a sophomore, sat on the gymnasium bleachers, he decided that he wanted to be the one sitting at the top of his class and addressing the audience at his graduation two years later. That goal stayed with him throughout the rest of high school.
"I remember thinking about that a lot," Hills said. "That was my main goal."
In 2002, when he graduated, that goal became a reality. But it may be out of reach for future BLHS students.
At next week's school board meeting, board members will decide whether to end the custom of naming valedictorians at BLHS. School officials said at last month's meeting that many school districts are discontinuing the practice and that a proposed new weighted-grade class rank system combined with tight course schedules could make it difficult to give all students a fair shot at achieving the top rank in the class.
But for some current and former BLHS students, the valedictorian honor has been a goalpost enticing them to stretch toward perfection, a reward for 12 years of hard work in school and a chance for academically inclined students to receive the kind of recognition that comes to others through sports or other activities.
Under current BLHS policy, the valedictorian is the student who graduates with the highest GPA while completing the Kansas State Scholars Curriculum, a more rigorous one than what is required to graduate or even just to be admitted to a Board of Regents university. In 2010, valedictorians were recognized at BLHS but did not speak at graduation, because of time concerns created by several students tying for the honor. Instead, the school held a contest to give a speech at the ceremony, open to all graduating seniors.
The promise of the valedictorian honor at the end of the road provided the extra push Lucas Turner needed to turn a "B" into an "A" a few times during high school, he said. Turner, now a sophomore at Creighton University in Omaha, Neb., was one of five BLHS valedictorians in 2009.
"It wasn't something I thought about every day," Turner said, "but I know that when grade card time came around, I knew it was something that was in the back of my mind."
The honor was also a carrot dangling at the end of the high school experience for Hills, one of two students who tied as valedictorian with 4.0 grade-point averages in 2002.
Hills remembered talking to previous valedictorians for advice as he prepared his speech, in which he told the other graduates that only they could determine how successful they would be.
That address was the biggest public-speaking experience yet for Hill, who is now working as an attorney in Kansas City, Mo., after graduating from law school at St. Louis University. He said the gratification and the thrill of being recognized is something that's stuck with him.
"Obviously it's not the end-all, but it's something that you're proud of, and it's something that you can take with you and know that you're capable of doing these things," he said.
The honor was a similarly gratifying experience for Turner, he said. He watched during high school as student-athletes' sports achievements landed them in the newspaper, and he waited for graduation, when he and the other students at the top of the class could receive similar public acclaim.
"It kind of felt like my moment there that I was able to shine, and I was able to have my 15 minutes or whatever, because of academics," Turner said.
Emily Lynch, a senior this year at BLHS, looked forward to that moment from the beginning of her high school career, before two "B's" during her sophomore year took her out of the running.
She said she has gotten all "A's" since then to bring her GPA up to 3.95, but she still kicks herself about losing the chance to be valedictorian. She is involved in debate and forensics, activities like sports in which students compete and receive recognition in public, but students' achievements in the classroom are largely kept between them and their teachers, she said. At graduation, the valedictorian recognition allows the winning students to prove just how hard they were working.
"It's kind of a secret honor until you get to your senior year," Lynch said.
She said she has since changed her goal to be to place in the top 10 percent of her class, which is what the district may recognize rather than the valedictorian and salutatorian should it choose to make the change. Some students are quite serious about their desire to rank above all their classmates, she said, and she'd be disappointed if that honor were taken away, even though she cannot earn it now.
"We all are competitive people," Lynch said.
BLHS senior Bryce Garver also fell out of the running for valedictorian with an early "B," during his freshman year, though he's managed to make straight "A's" since. He said he was disappointed that he hadn't worked a little harder to earn a perfect record, but he didn't care too much about ranking at the very top of his class as long as he got some recognition for his achievements.
"I didn't really care if it was one or two," Garver said. "I just wanted to be up there."
Garver said he thought it was important for hard-working students to be recognized at graduation, but it did not need to be strictly through the "valedictorian" title.
Dustin Weimer, though, said the valedictorian spot gave him something specific to aim for, which helped him learn about setting goals and meeting them. Weimer, who graduated from Kansas University's aerospace engineering program in May 2010, was one of three BLHS valedictorians in 2006.
"A valedictorian and salutatorian, they're people who've gone above and beyond what they can't do," Weimer said.
He said the thought of being valedictorian may have helped him push through his classwork toward the end of his high school career while classmates were coming down with "senioritis."
Hills, the 2002 valedictorian, said the designation may be a bit old-fashioned, but he noted the rest of the typical graduation ceremony is rooted in somewhat unusual tradition, as well.
"Get rid of the cap and gown while you're at it," Hills joked.
Turner said he'd be disappointed if future students didn't get the chance to feel the recognition he did.
"I didn't win a million dollars, no," Turner said, "but it was something I'm never going to forget, to say the least."