Williams, Pichardo catch fire, power Braves past Chieftains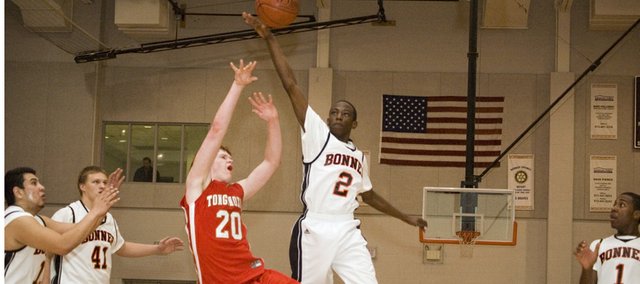 Editor's note: the following is the version of this story that was published in the print version of the Chieftain.
Fueled by big nights from a couple of Braves who were due for a scoring outburst, the Bonner Springs boys basketball team held off visiting Tonganoxie on Tuesday, 75-66.
BSHS junior Stevie Williams and senior Juan Pichardo came into the Kaw Valley League game averaging 8.8 points apiece — not exactly what coach Andy Price was expecting from the duo.
"Our two guys that are good scorers who haven't scored very much for us in the first semester, we talked about getting them more touches and having them be more aggressive looking to score," Price said after the win.
Pichardo and Williams responded to the challenge, combining to put up 39 points.
Williams came out of the gate determined to be a factor, scoring 10 of his 19 points in the first five minutes, leading the Braves (3-2 overall, 2-2 KVL) to an early advantage.
Showing off his strength and hops, Williams converted a pair of three-point plays after drawing fouls in the first two minutes. Those scores, bookended by junior Jourdaine Smallwood's 3-pointer seconds after the opening tip and a basket inside from junior Brett Steuart, put the Chieftains (2-3, 0-3) in a quick 11-2 hole.
THS coach Shawn Phillips said the early deficit was too familiar a scenario.
"It seems like we're kind of going in a trend where we don't start well," Phillips said. "We were down 10 just three or four minutes into the game, and that's what the (difference in) score ended up being down the stretch, so we've got to find a way to come out and play right from the very beginning."
Even after Tonganoxie fought back from a 10-point hole in the first with a 9-0 run — Dane Erickson scored in the paint, Dylan Scates hit a 3-pointer and Colby Yates converted a jumper and a layup — the Braves were able to regain some distance.
Pichardo was crucial in the Braves' response, scoring 14 of his team-high 20 points in the second quarter, helping BSHS to a 47-37 halftime lead.
Seemingly every time THS made a push, Pichardo would answer.
Price said it was nice to see his scoring threats deliver.
"It sure helps when shots are falling and you can shoot with confidence," he said.
Down 10 points throughout most of the second half, the Chieftains cut the lead to four with a 6-0 run late in the fourth quarter — Jeremy Carlisle, Austin Vickers and Erickson each hit two free throws.
However, Bonner Springs bounced right back with a 7-2 run.
Erickson led Tonganoxie with 24 points and Carlisle finished with 16.
In addition to Pichardo and Williams, Steuart scored 12 points, Smallwood had 6, J.J. Jackson had 6, B.J. Watson scored 6 and Joseph Dooley added 2.
The Braves next play at 7:30 p.m. Monday at home against Atchison.